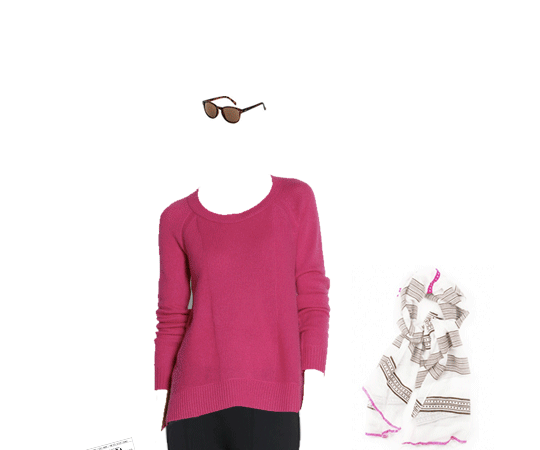 What to Wear: One-Day Business Trip
Two countries…one day! On Wednesday, I boarded an early morning plane to Vancouver, Canada for a day of consulting work and I'm on my way back to San Francisco this evening. A new international travel record for me and something that required a foolproof outfit.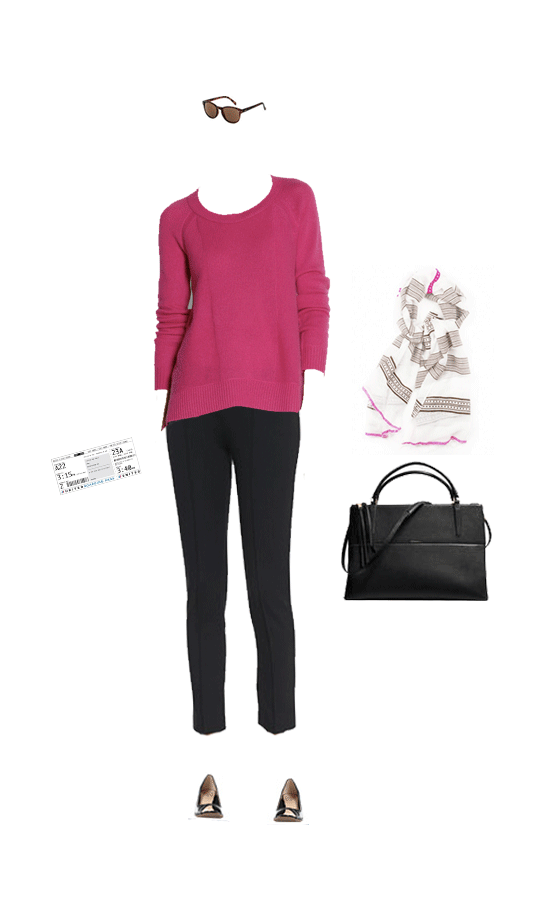 Sweater – My hot pink cashmere sweater (bought on sale from Bloomingdale's) is a trusty piece that feels as comfortable as a sweatshirt, but looks polished anywhere.
Cigarette Pants – Trim black trousers with a higher ankle cut to work well with low shoes.
Wedges – Cole Haan Air wedges have built in Nike cushioning. They look fancy, but feel like sneakers. Easy off and on for airport security.
Scarf – A scarf is easier as a travel layer than a coat. Keeps you warm if the temperature drops or on the cold plane. Quick on and off at the security screening. This black and white Ethiopian scarf with neon pink accents is super pretty.
Purse – After leaving my laptop in London, Rob made me buy a new purse that fits my computer inside. This black Coach bag looks slim but holds a massive amount inside. Bonus points for pockets that easily keep your passport and boarding pass separate and a shoulder strap.
Sunglasses – A cute vintage-style pair from H&M.