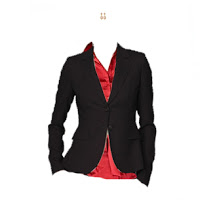 What to Wear: Cable News Appearance
Ahhk! I just got scheduled for a 4 am live TV interview for work tomorrow morning. I haven't done much TV lately and I need to buy something new to wear on the air. Yikes. There are so many rules: no white, no black, no pattern. And they would like something bright. I'm going to leave work soon to go shopping. Here's what I have in mind:
Blazer – In dark brown from J.Crew.
Shirt – I'll have to see it in person, but I want something in bright blue or a festive red.
Earrings – Margaret gave me a pair similar to these for Christmas last night.
Pants – Don't really matter. I'll probably wear trousers.
Make-Up – Since it's at 4am, there's not going to be a make-up artist on hand and I'll have to do my own.
PS: Sorry, you're not invited to watch even if you would be up at 7am EST. That would make me just that much more nervous.