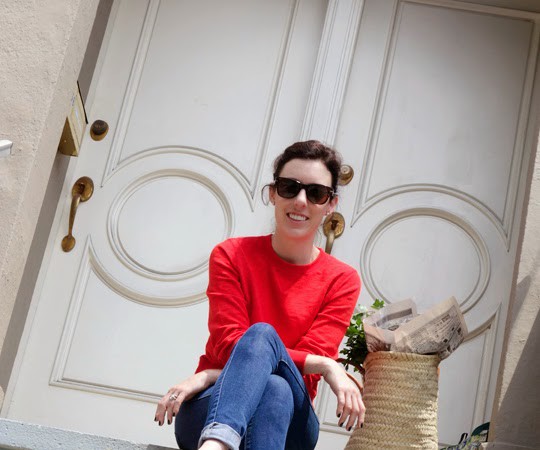 5 Step Dinner Party: A Spanish Summer Feast
Gorgeous food, easily prepared. Great conversation with friends. Meeting new people. Last night's dinner party was everything I love about hosting! Here's the play-by-play guide:
Spanish-inspired Menu
Appetizer of Spanish cheeses
Mussels in a chorizo, chickpea, tomato broth
Fresh tomatoes with kale pesto dressing
Roasted cauliflower
Warm crusty baguette
Dessert of grapes and spanish dark chocolate
Step 1: Shop. The day before the party, I walked down to Civic Center Farmer's Market to buy tomatoes, parsley, grapes, walnuts, dried peaches and flowers for $20. Rob locked me out of the house on my return, so his punishment was taking a very blogger-y stoop photo.
I also visited the Spanish gourmet market, Nosa Ria, a few blocks away to buy authentic spanish chorizo, two big blocks of cheese, pickles and a massive chocolate bar for $35.
Step 2: Set the Table. I like to set the table the day before. It's one less thing to worry about the day of the party and it looks so festive! The $5 dahlias from farmer's market were combined with a few sprigs of parsley for the centerpiece.
The rest of the table was set in red and blue with straw placemats, cloth napkins, wedding china and my antique sterling flatware.
I added red flag place cards after this photo was taken.
Step 3: Prep. Cooking ahead of time not only makes the party stress-free but also helps the food's flavors set better. I cooked up a broth for mussels loosely inspired by two recipes, starting with browning chorizo, onions and garlic with olive oil. Added fresh red and yellow tomatoes, white wine and canned chickpeas. So delicious after it simmered for an hour. That Spanish chorizo did all the hard work of seasoning the dish with a smoky flavor.
I also chopped up the cauliflower for roasting the night before.
Step 4: Last minute prep. I had a busy day on Thursday and came rushing home from a networking party an hour before. I bought 4 lbs of fresh mussels and two loaves of crunchy bread for $25 on the way. Threw together the cheese plate with Manchego, a Spanish bleu cheese, red walnuts, dried peaches and flatbread crackers. On the side, a tray of banderillas, little swords with pickles, olives and onions that come in a jar.
I sliced up beautiful ripe yellow and red tomatoes and topped them with a dash of homemade kale pesto and some fancy finishing salt. Sliced the baguette, turned on the oven and took the mussel broth out of the refrigerator. Tuned into to some Spanish guitar on Spotify and waited for the first guests to arrive.
Step 5: Party time. Guests arrived at 7:00 with wine in tow. We enjoyed the cheeses and pickles in the living room for an hour first. 20 minutes before dinner, I put the cauliflower in the oven to roast. 5 minutes before, I put the bread in along with the first batch of mussels. I dished up bowls of mussels right as everyone sat down. They were SO delicious and couldn't have been easier to prepare.
The tomatoes were also a hit. The cauliflower came out okay, not amazing. I cooked a second batch of mussels and bread halfway through. For dessert, plates were cleared and replaced with rounds of tea and plates of grapes and spanish chocolate.
Everyone headed home at 10:00. Rob and I washed the silver, a load of dishes and threw out the mussel shells before going to bed.
Food for the whole eight person party cost less than $100. Prep time the day the party amounted to one hour for shopping on foot and one hour for setting the table and prepping food. We have lots of cheese and grapes left over for the rest of the week and a bit of bread for breakfast.
What should the theme be for next week's dinner party menu? You can follow-along with the planning on my Pinterest board.