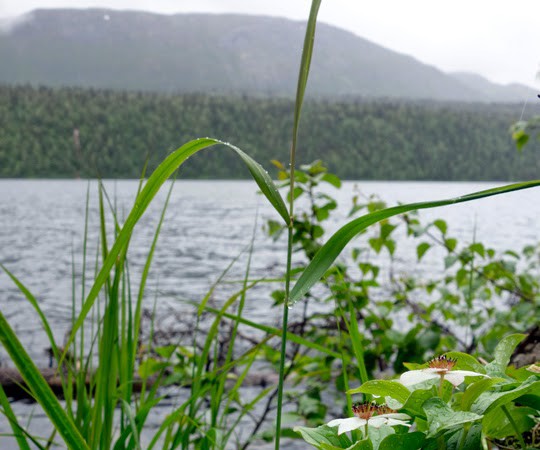 Hiking Byers Lake at Denali State Park, Alaska
On our way south from Healy to Bird Creek, we stopped for a hike at Denali State Park. The heavy rainstorm we had at Denali National Park the day before was just starting to clear out.
The weather wasn't quite as freezing cold, so I bundled up again in a few less layers. I'm not fond of this green rain jacket, but it does match the ferns quite nicely.
And we saw a LOT of ferns. The 5 mile loop around Byers Lake starts with an inland hike through deep fern groves.
A perilous cable bridge takes you over the river on the north side of the lake.
We were carrying bear spray, but the only animals we spotted were two massive tundra swans. Their wingspan must have been about 5 feet!
Poor Amy was still rocking her emergency poncho to keep out the rain.
The trail was so full flowers, moss and rocks that it looked almost professionally landscaped.
You'd pay a landscaper thousands of dollars to achieve this level of ideal mossiness!
Another bridge on the south end delivered us back to the ranger station. On a clear day, you're supposed to have a magnificent view of Mt. McKinley from here.
Along the hike, I spotted a few new wildflowers. Including Artic Wintergreen:
Wild iris:
And Rusty Meziesia:
A fantastic spot to stretch your legs on the drive to or from Denali National Park!