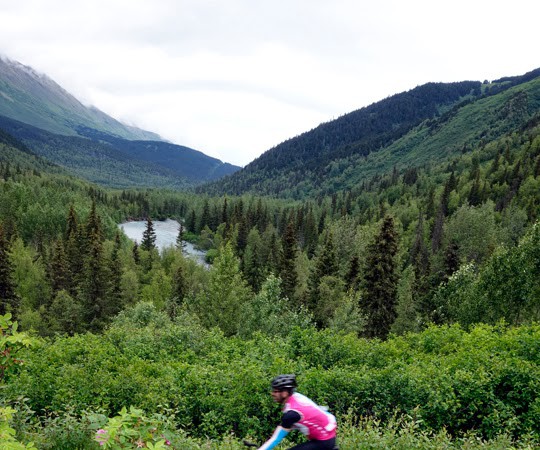 Biking and Driving the Seward Highway in Alaska
100+ miles of scenic road biking through Alaskan valleys, lakes and glaciers? Sounds like a perfect day for cyclists Seth and Rob along the Seward Highway.
After a night in the Bird Creek campground, we set out on this classic route in the morning. Although the storm had mostly cleared out, it was still a bit chilly for the riders. Rob is decked out here in the bright jacket and arm warmers of his racing team, SuperPro. Nicely coordinated with the wild prickly roses.
Amy and I gave them a few hours headstart from the campground. I hiked down to the water for a bit of sketching.
The sun was starting to peek out at the dells of wild fireweed in our campsite. Time to hit the road!
Amy and I gassed up (there are no gas stations for 87 miles on Seward Highway) and stopped in sleepy downtown Girdwood for a bit of espresso.
We ran across the cyclists near the Hope turnoff and stopped to make a hearty spaghetti lunch.
Back on the road again. Seward Highway is named an All-American Road for its vast scenic vistas.
Passed the riders again on the way to our next stop.
We parked the RV at Jerome Lake just before the turn-off for Homer and waited for the riders to catch up for a snack and water refills.
One last stretch of riding and the bikers arrived at the Kenai Fjords and the town of Seward, Alaska.
Altogether, the men rode for 8 hours with a few long breaks for a total of 106 miles between Bird Creek and Seward.
Rob's pro-tip for riders who want to do the Seward Highway? He recommends carrying three water bottles because fill-up spots are hard to find.