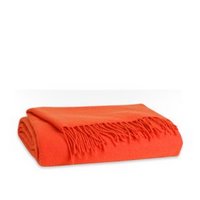 Birthday Wish List: Cashmere Throw
My mom asked a few days ago if I wanted anything particular for my birthday "aside from all the things you talk about on the blog." I could see how picking out a present for me could be confusing. While I love all the things I post about, I don't necessarily have room for them in my apartment!
So for the next few weeks I'll occasionally be picking out a few things that would make for lovely gifts. This orange cashmere throw is a good example, albeit a bit of a splurge. I would use it in the living room to replace the orange terry blanket that I stole from Jean and that we think originally came from the housekeeper, Estella, who was always inserting gifts into my parent's house.
Other than this I'd mostly like art supplies, perfume, jewelry, make-up, satin pajamas, flowers and chocolates…the exact same list I've had since I was about 5 years old. Cards are always lovely too!