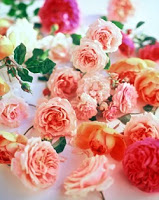 Things I Love Today: Rose Story Farm
Next time I am down on the central coast I'd love to drive out to Carpinteria to visit Rose Story Farm. This gorgeous ranch is home to over 120 antique rose varieties. They were mentioned in the last issue of InStyle. For $35 they'll give you a tour complete with rose samples and a picnic lunch. What a fun way to spend a day!
You can buy the flowers online for $75 a bunch starting in April. I think I need some Frederic Mistrals Glamis Castles for my desk next month!