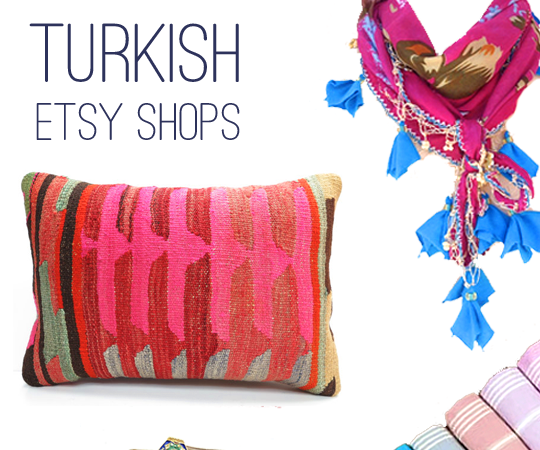 The Best Turkish Shops on Etsy
Because we visited Turkey at the very start of our nine week trip, I only bought a few tiny souvenirs in Istanbul and Bodrum. Thanks to Etsy, picking out beautiful pieces direct from Turkey is as easy as a couple clicks. From top to bottom: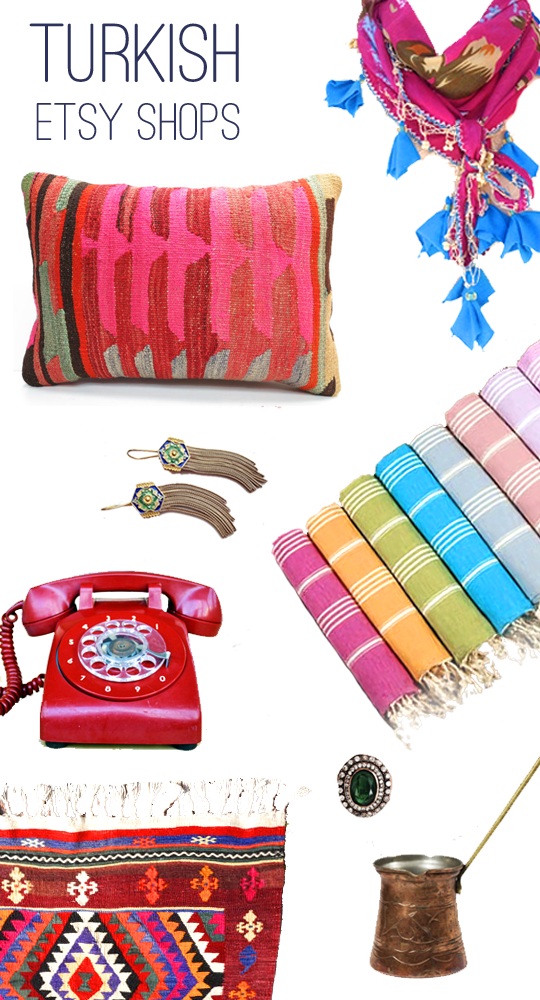 SofaART – All kinds of beautiful handwoven kilim pillows from Izmir. The pictured pink and green choice is $64. Check out KilimDecolic for even more choices.
Alyosm – High-quality turkish towels in every sherbet color of the rainbow. Three small towels are $60.
Anteeka – This shop is in Israel, but the tassel and enamel earrings are vintage Turkish for $125.
PrettyTurkishThings – An online Turkish shop with adorable vintage phones, fez hats and evil eye beads.
Aquazestfest – A collection of vintage costume and new jewelry directly from Istanbul. I love this faux emerald ring. Gorgeous and only $42.

Decorient – An assortment of traditional copper-ware – like this coffee pot – and vintage Turkish toys from the coastal town of Izmit.
TurkishKilim – Vintage handmade Turkish rugs from Bergama. This bright kilim is from the 1960's. Check out TurkishMuseum and ButterflyRugs for even more choices.
Bonus – I might be in love with this insane vintage feathered turban in teal and mint from the UK.