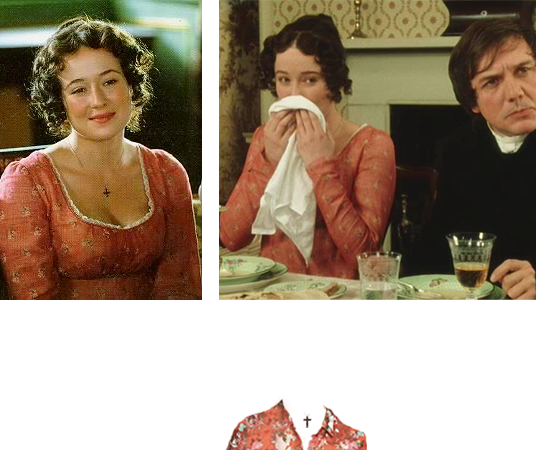 What to Wear: Inspired by Elizabeth Bennet's Red Dress in Pride & Prejudice
Episode 2 of the iconic 1995 Pride & Prejudice series introduces the terrible Mr. Collins and the even-more-terrible Mr. Wickham into the story. Elizabeth Bennet manages to keep her cool in a red muslin dress with floral print. Let's translate it into an outfit that works for a family dinner with an annoying cousin today: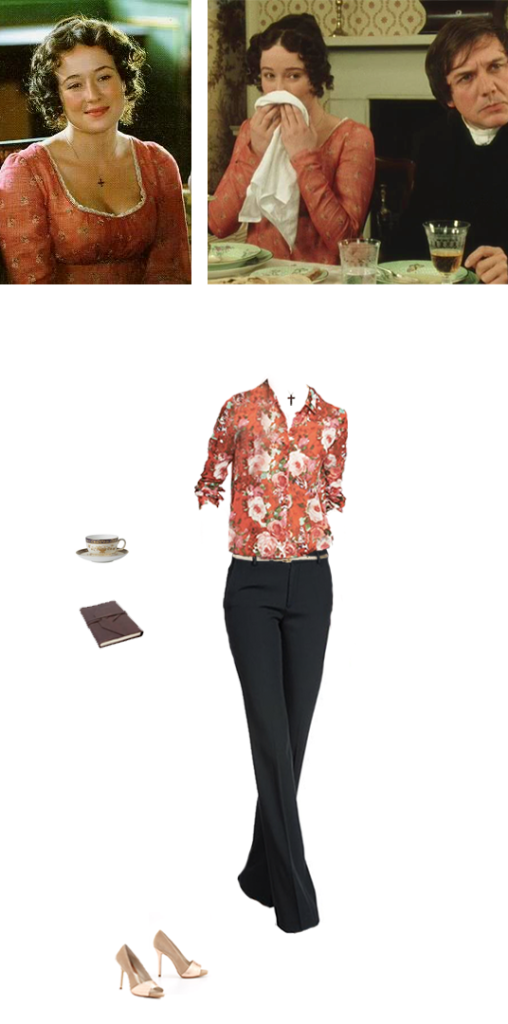 Blouse – A beautiful floaty cotton blouse with a floral print over a deep coral background is a modern version of Lizzie's pretty red dress.
Trousers – These dark emerald green wool pants are a sophisticated compliment to the bright top.
Belt – A basic gold leather belt helps tie it together.
Cross – I looked everywhere for a simple garnet cross as nice as Elizabeth's but this was the closest I could find.
Shoes – The combination of beige suede and gold detail on these peep-toe pumps is so pretty.
Tea cup – Wedgwood & Bentley collection china with hand-painted gold detail over royal blue.
Book – Key for avoiding Mr. Collins and his stories of Lady Catherine after dinner.