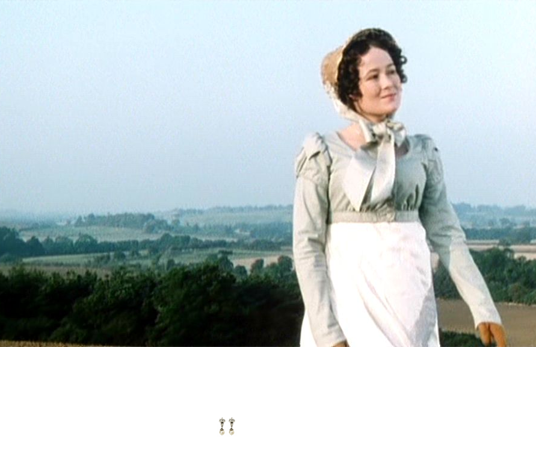 What to Wear: Pride & Prejudice, Elizabeth Bennet, Episode 1
Just when I was feeling so tired of all my clothes and so bored with nothing but olympics on TV… a miracle! I discovered that my Amazon Instant Video account suddenly includes all six hours of the iconic 1995 BBC Pride & Prejudice series. With Rob gone on a retreat with his bike team, there is nothing to stop me from watching on it a constant loop this week and creating Lizzie-inspired outfits.
Let's start with the opening scene: Elizabeth Bennet is walking home in a white dress and a mint green jacket with saddle leather gloves after spotting Mr. Darcy and Mr. Bingley for the first time.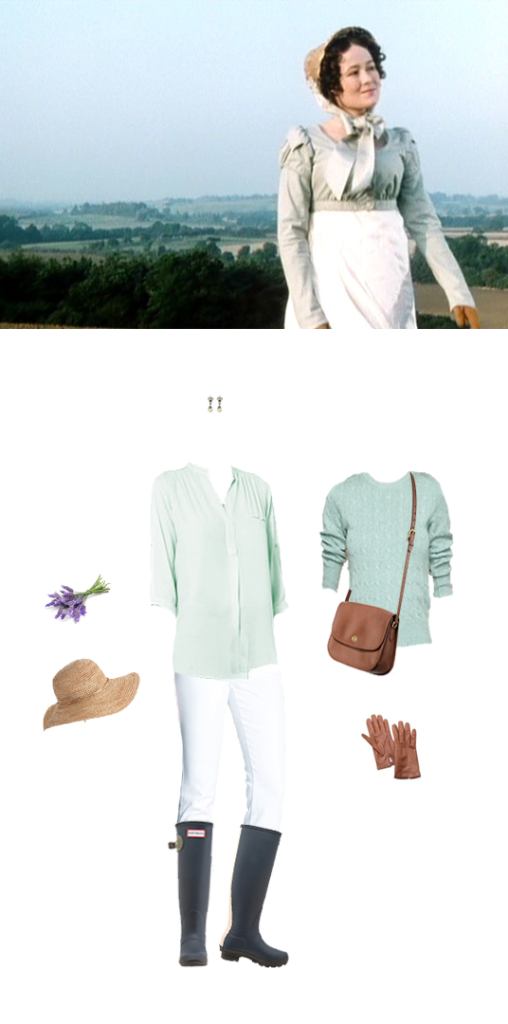 Jeans
–
White jeans
are the everyday muslin dress of our times?
Blouse – This mint blouse is only $44 and an extra 25% off. Plus, machine washable since you don't have servants.
Sweater – A silk cableknit sweater that matches the mint green blouse.
Boots – Wellies are what you would wear for traipsing around the Hertfordshire countryside these days. This pair of Hunter boots in navy has a cream stripe on the back that reminds me of the ribbon on Lizzie's hat.
Purse – A classic saddle leather cross-body bag from Coach.
Hat – This basic straw hat is much more sensible than a bonnet.
Gloves – A kind of strange choice with the outfit, but true to the costume. These lambskin gloves are on sale for $70.
Earrings – These crystal and pearl drops are supposed to be bridal but I decree them as hiking-wear.