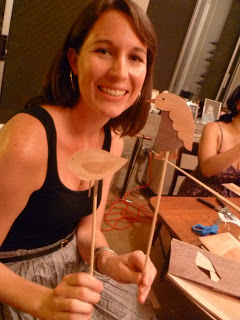 Ladies Activity Club: Fifth Anniversary!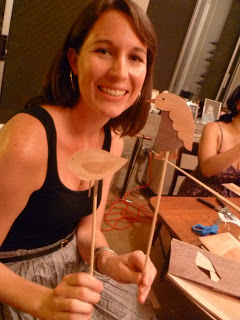 The best way to pass an evening in the midst of a heatwave in a city with no air conditioning?
Why not saber a bunch of champagne, eat cold key lime pie (from Whole Foods…so good!), go for a second round with cupcakes (from Miette..delicious!) and sit around with a bunch of lady friends. Thank heaven for the Ladies Activity Club in September!
On Tuesday, we celebrated the 5th anniversary of the Ladies Activity Club at my apartment. Along with the delicious food and ample champagne – we made crafts out of wood veneer, dowels and hot glue. Along with mobiles, guests made tiny birds on sticks to go in potted plants, equally adorable fish with button eyes, bows and cheese markers.
Super fun evening! A perfect way to ring in our 5th year.