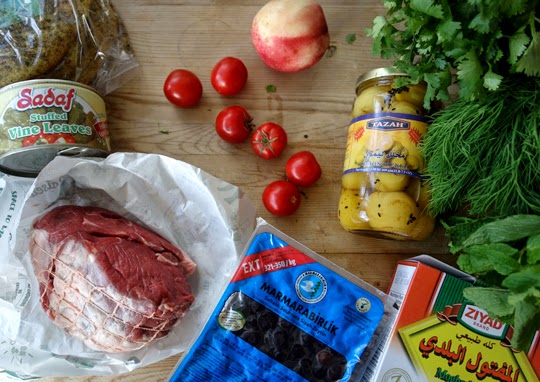 5 Step Dinner Party: Turkish Delight
Turkish was the theme of our weekly dinner party last night, and a great excuse to do lots of layering: both with fresh bright ingredients and lots of different table linens.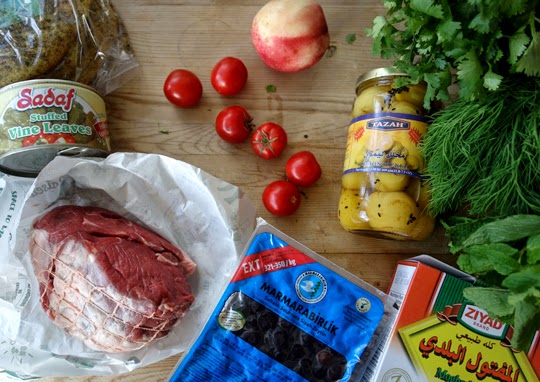 Menu
Appetizer: "Meze" platter with imported Turkish dolmas, black olives and persian cucumbers topped with lemon and paprika.
Amuse-bouche: Tomatoes stuffed with kisir (tabbouleh salad)
Lamb kabobs with white nectarines and preserved lemon
Smoky eggplant dip (patlican ezmesi)
Cucumber yogurt dip (cacik)
Fresh Turkish za'atar bread
Dessert: Pluot tart, dark chocolate, Turkish tea.


Step 1: Decorate
I set the table with two different turkish linens: a lovely dove grey and silver cloth I picked up in France and a very plain blue and white bath towel we bought in Bodrum.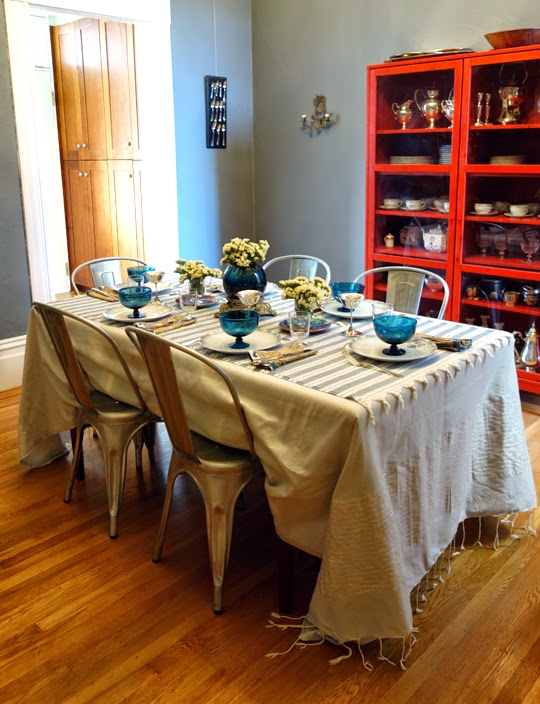 Very Turkish-looking blue and gold napkins, wedding china, silver service. For the centerpiece, I repurposed last week's statice flowers into new vases. Used the base of my punchbowl as a gilded base for the main vase. Polished silver stemware from my aunt as tealight holders.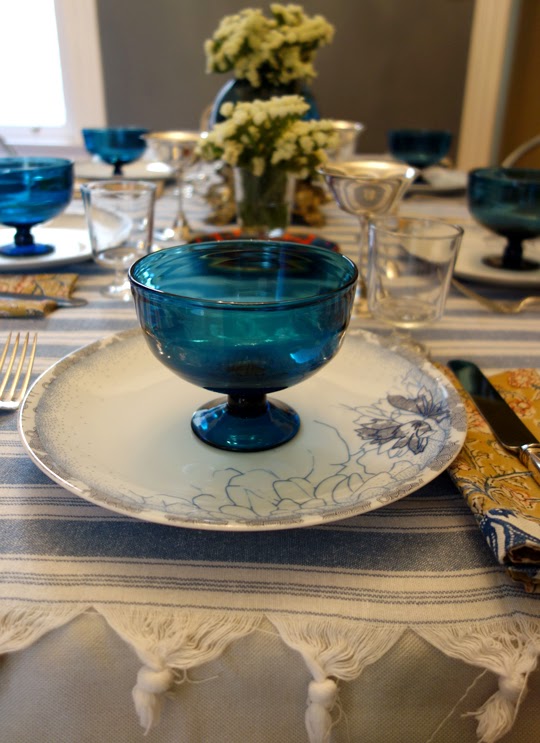 Step 2: Shop
I walked down to
Samiramis Imports
on Mission St. to pick up genuine Turkish preserved lemons, yogurt, fresh-baked bread, olives, cucumbers and dolmas. Bought tomatoes, fresh herbs, nectarines and lemons at a Mexican market next door. Half a leg of lamb from Whole Foods. Groceries were a bit more expensive than usual, about $50.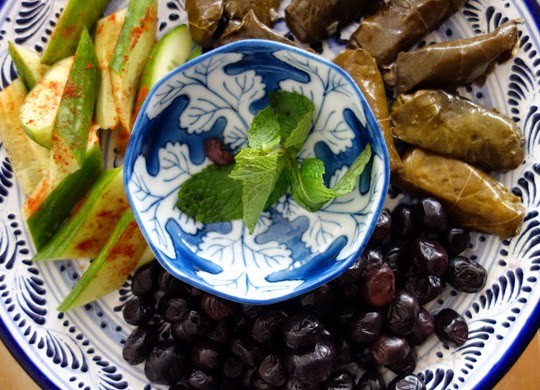 Step 3: Make Ahead
I made the roasted eggplant dip (which could not be easier) on Monday night and the cacik cucumber dip on Wednesday morning.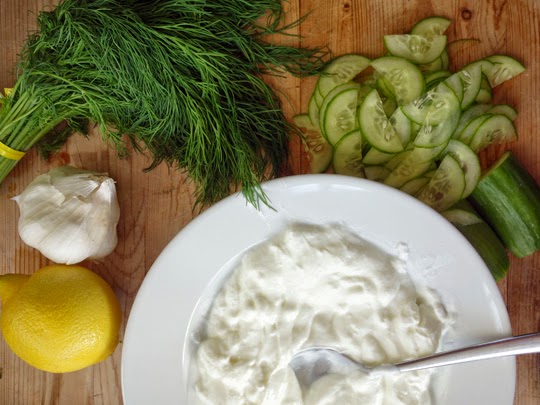 Step 4: Last Minute Prep
I threw together a quick kisir salad with a dash of truffle mustard in the lemon dressing and used it to stuff small tomatoes.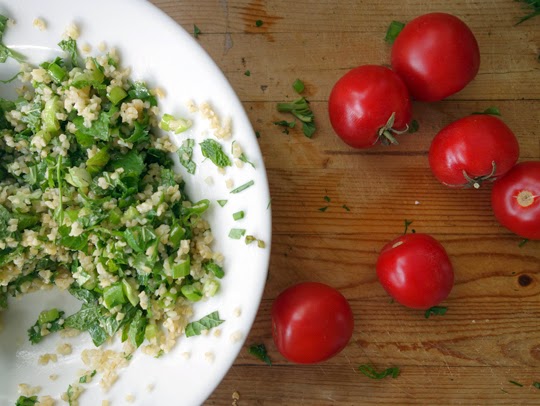 Wee bit of lemon peel on top and that was our completed amuse-bouche.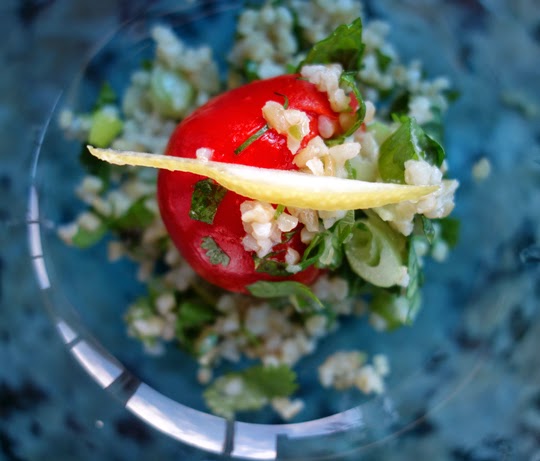 Chopped up fresh, super ripe white nectarines and tossed them in diced preserved lemons.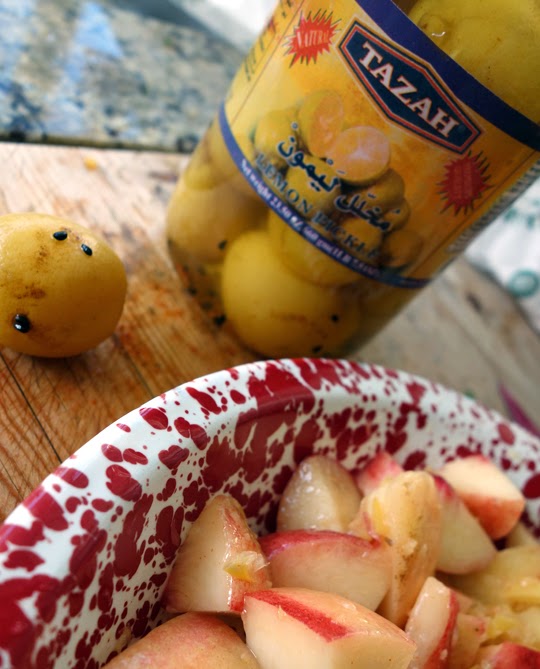 Cut the leg of lamb into lean cubes for the small skewers, seasoned the meat with kabob spice from the market and assembled that with the nectarines. Put on some Turkish guitar music on Spotify. Time to relax and wait for guests to arrive.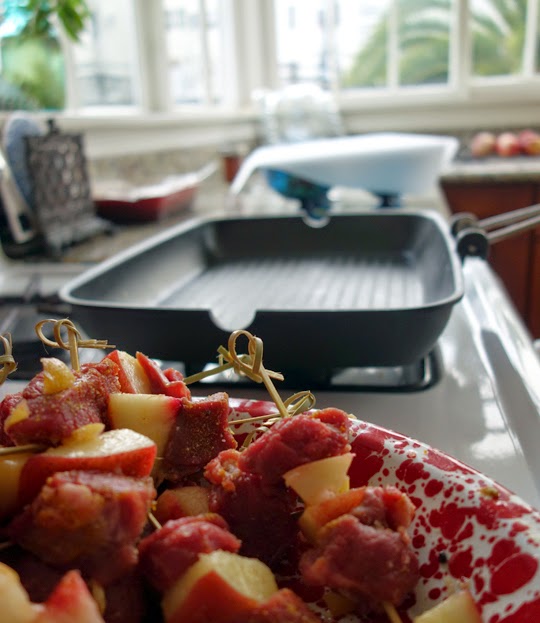 Step 5: Party!
Our guests arrived loaded with gifts this time: no less than 5 bottles of wine, a fruit tart, chocolate bars and flowers! We started with wine and the meze platter in the living room, before moving on to beer and the cacik salad in the dining room. The kebobs only take about 2 minutes to grill, so I did that and heated the Turkish bread in two batches. I thought we would have way too much food, but every last bit was eaten.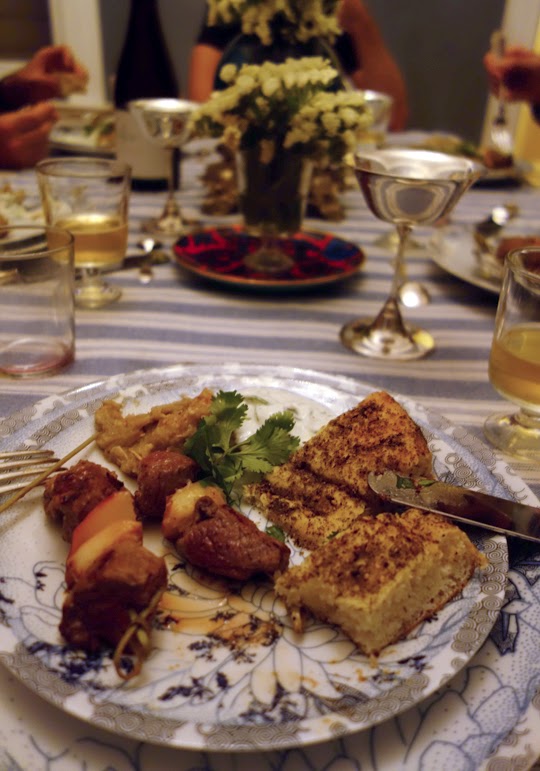 For dessert, the pluot tart, bars of gourmet dark chocolate and decaf spice tea that Rob and I brought back from the Egyptian spice market in Istanbul.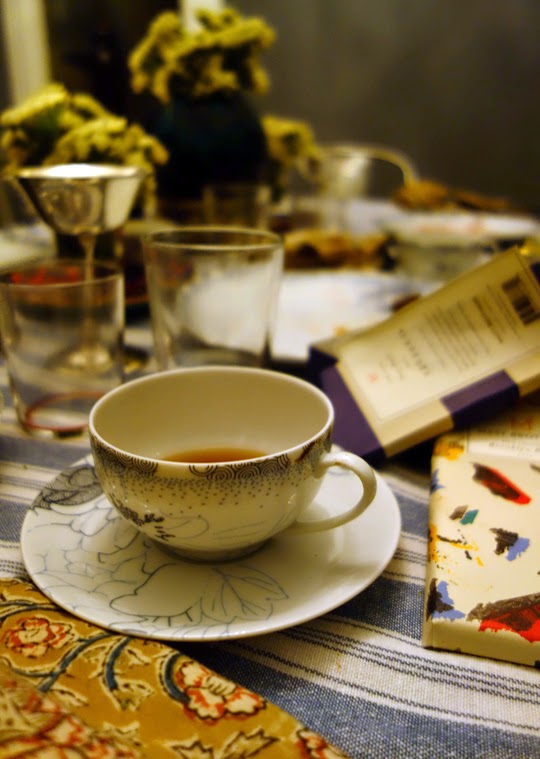 Everyone left at 10pm with full bellies and ideas for new travels. Rob and I loaded up the dishwasher before turning into bed.