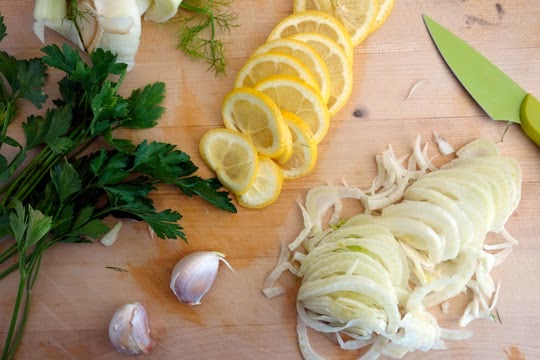 9 simple ideas for savory Christmas gifts: marinated delights, pestos & pickles
Now that Halloween has passed, the holidays are just around the corner. There are only so many quiet weekends available for cooking before things start to book up with Thanksgiving and Christmas events. When I posted the recipe for marinated christmas lima beans last week, Heatherina asked for more ideas for savory homemade gifts.
These are mostly things I keep on hand in my own refrigerator. All three categories are easy to make, all impressive to share!
1. Marinated: Package these larger gifts in lovely Italian Bormioli Rocco jars.
Heirloom beans are easy and impressive when marinated in oil with fresh herbs, garlic and truffle salt. Look for the best fresh or dried beans at farmer's market.
I also want to try marinating cheese in olive oil, the style we ate so often Croatia. It looks like you take a pretty hard, but mild flavored, goat or cow's milk cheese and combine it with olive oil, pepper, rosemary and thyme. In Croatia, slices of this cheese are served with a prosciutto-like smoked ham.
2. Pickled: These mid-sized amber glass jars are retro fabulous for pickled gifts.
If you have a citrus tree, make preserved lemons using salt, vinegar, cloves, cinnamon, coriander, pepper and bay leaves. These salty tart fruits are the base for a traditional moroccan tagine with green olives. A few go a long way, so small jars are perfect for sharing.
Cocktail onions are delicious and so easy to make now that Trader Joe's sells frozen pearl onions already boiled and peeled. So glamorous in a gibson!
Mexican pickled onions could not be simpler. Just slice red onions thin and combine with vinegar, coriander, oregano and salt. They turn such a pretty pink color overnight!
3. Pesto: Pack these savory fresh herb condiments in elegant small Le Parfait terrine jars.
Kale pesto is a hearty variation on the classic recipe. Make it by combining fresh blanched kale, basil, garlic, olive oil, raw almonds and salt in a food processor. I serve it with pasta, mixed with olive oil to make a dressing for fresh tomatoes or mixed with butter to make a delicious garlic bread.
Mexican pesto is my solution to preserving fresh cilantro for cooking. Combine cilantro, pepitas, chili flakes, lime, garlic, salt and olive oil in a food processor. A great addition to grilled meats for tacos or simple quesadillas.
I'll eat chimichurri on anything. Make it by blending parsley, cilantro, oregano, lemon juice, olive oil, garlic, chili flakes and salt. Serve on top of grilled steak and pork.