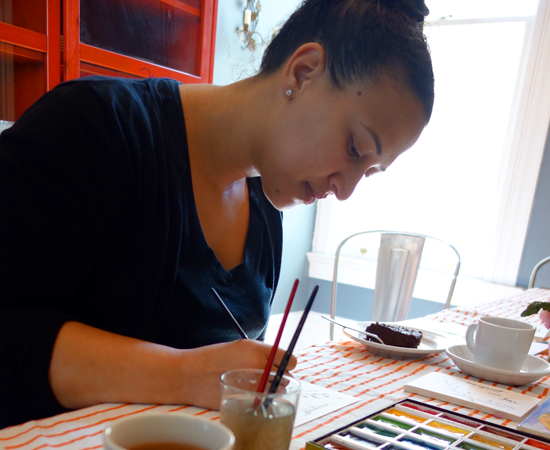 Handpainted Olive Branch Save-the-Date Cards for Margaret's Wedding
My good friend Margaret is engaged to be married and the happy day is scheduled for this August! It's another very special wedding I get to help coordinate. The first project? Sending out save-the-date cards now that she had the date, venue and caterer set.
Margaret's talented friend, Romy Natalia Goldberg made the design with an olive branch illustration. After a few printer trials and errors, Margaret had the design printed at Kinkos on to watercolor postcards.
The morning after her enchanted under-the-sea birthday party, we made tea and cake for breakfast (leftover cake is the real breakfast of champions) and sat down to paint. Mixed up some pretty blues and greens using my Japanese watercolor paint set.
It only took about an hour for the three of us to paint the cards, with lots of chatting and goofing off.
Margaret added a personal note and a pretty stamp to each one before mailing them out to guests. A lovely handpainted way to kick off what is going to be a really great wedding!