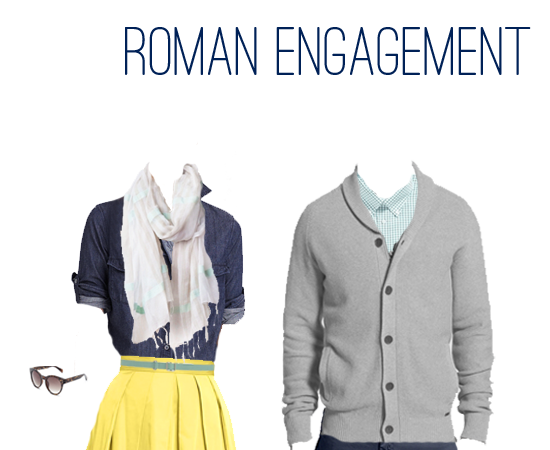 What to Wear: Engagement Photos in Rome, Italy
Today's What to Wear request comes to us all the way from Addis Ababa, Ethiopia. Eleanor wrote in to ask:
I'm a California transplant living abroad. My fiancé and I live in Ethiopia but are heading to Italy in a few weeks. We are planning on having engagement photos taken in Rome and I'm at a loss for what to wear. I really want to order something online to wear there as I won't have much time to shop and have a hard time locating stuff I like in my size here. As for stores- my parents are meeting up with us in Rome (for their 40th wedding anniversary) and so I'll just have them carry whatever (along with my wedding dress!). However, stores with generous return policies, namely Nordstrom, are easiest.
I'm a size six, slightly busty, and have shorter legs and a longer torso. We're planning an urban photo shoot- I'd like something that bridges the line between casual and dressy – he will probably wear jeans and some kind of button down shirt – but if you do have recommendations for what he should wear, that'd be great as well!
Rome has those beautiful shades of yellow and gray in the architecture, and teal blue water in all those fountains. Here's an outfit for Eleanor that is classic, not too matchy and will look right at home on the streets of Rome.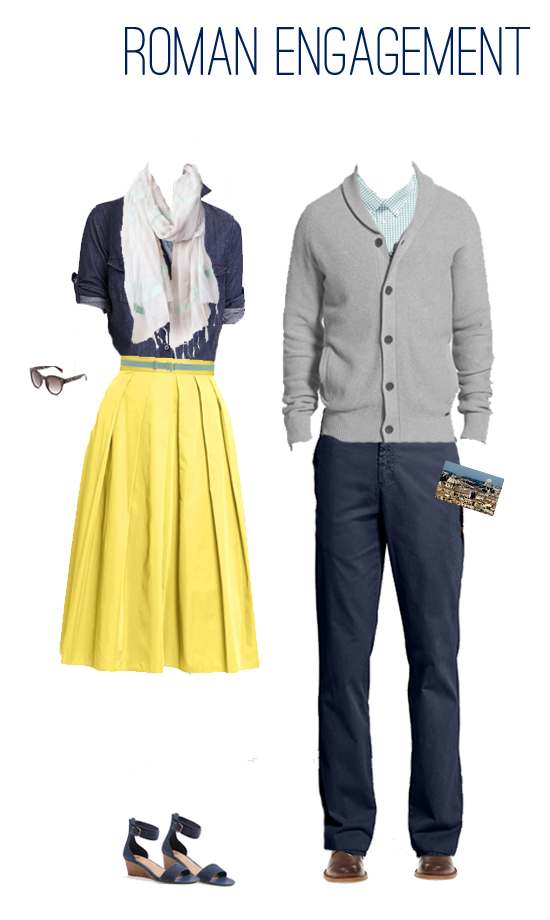 For her:
Shirt – Eleanor reports already having a vast collection of favorite chambray blouses. The classic cut and deep blue color will look so pretty in photos.
Skirt – A midi skirt in eye catching yellow with a full, but not too full cut from Nordstrom is a classic pairing with the chambray shirt and gives a somewhat-subtle nod to Audrey Hepburn in Roman Holiday. Higher-waisted skirts help balance out a longer torso.
Sandals – It should be in the low 60's and warm enough for sandals. A pair of navy sandals from Nordstrom with only the smallest wedge heel to make them actually comfortable while running around all those fountains. Nordstrom has a bunch of similar sandal options in different heel heights and colors to choose from. If it is colder, switch to flats or booties.
Belt – A mint green belt for $24.
Scarf – A beautiful Ethiopian scarf – of which I'm sure Eleanor has many – with mint green details ties together the look. It will also be handy for sitting on carrara marble steps, around her hair while riding on vespas or will just look pretty in her hand.
Sunglasses – Buy an inexpensive pair of sunglasses off a street vendor in Rome.
For him:
Pants – A pair of basic navy chinos are just a small step up from jeans.
Sweater – A gray cardigan from Nordstrom is more casual than a blazer.
Shirt – Any blue shirt would do, but this shirt in mint ties in nicely with Eleanor's belt.
Shoes – A pair in a shade of natural "saddle" leather.