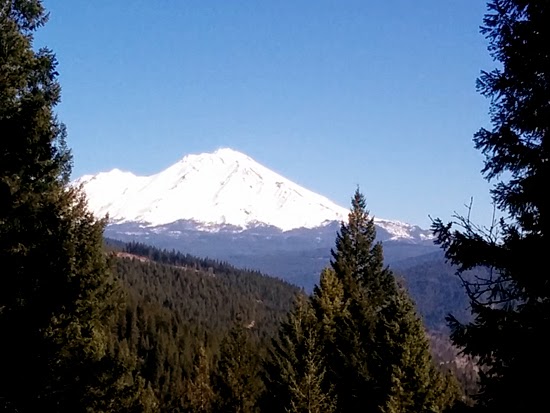 A Winter Weekend Adventure in Shasta, California
California is SO big that sometimes I forget about the areas to the furthest North and South of the state. Way up, almost at the Oregon border, is the 14,000 foot high Mount Shasta, surrounded by miles and miles of forest. Rob, Nicole and I drove up on Friday night for a weekend of skiing, hiking and lots of cute country children.
We stayed in a spacious family home in Mount Shasta that Nicole's friend Taryn (a local photographer) arranged for us. It looked straight out of those I Love Lucy episodes when they've moved to Connecticut – complete with braided rag rugs and framed cross-stitch.
On Saturday, we had breakfast at the Black Bear Diner before driving up to Bunny Flat for the first – and maybe last – glimpse of actual powder snow we'll have this season. (Apologies to those of you who have been inundated with snow this winter – basically, the entire US minus California – it has been so dry and sunny here that we were excited to see even a few inches.)
The trail starts at almost 7,000 feet of elevation and then five adults, two kids and a dog all headed up to about 8,500 along Avalanche Gulch. The tiny kids with us were good troopers about being towed up behind their parents. They were so fast on the downhill!
I alternatively skied and tumbled my way down the mountain in the fresh snow on my skinny cross-country skis. Really fun despite the falls.
A lovely tailgate lunch waited for us back in the Bunny Flat parking lot.
The storm cleared enough for us to get a few glimpses of Mount Shasta from the base.
Such a fun day in the snow! After a quick break to return home and shower – we all met up again for dinner at the Wayside Grill in Mount Shasta. Definitely get the lobster bisque and a glass of a locally-brewed beer.
On Sunday, we woke up early for another adventure in the mountains with an adorable family. This time at Castle Crag State Park with our friends Rich, Molly and their three kids. It took about an hour to hike from the parking lot up to the base of the towering crags.
Brr, it was very cold when we started out. If you're going in the winter/spring – be sure to pack lots of warm layers. By the time we hiked down it had started to warm up a bit more.
We drove to the adorable town of Dunsmuir for lunch after the hike and stopped Dogwood Diner. This tiny cafe features gourmet food made with local, seasonal ingredients. I had a lovely pasta with butternut squash, pecorino, rainbow chard and olives. Dessert was even better – especially the warm cherry pie and the blackberry ice cream brownie sundae with fresh whipped cream.
The kids loved watching freight trains go by from inside the restaurant and out in the railyard across the street.
While you're there, stop in next door at Brown Trout Vintage. This boutique has cut-outs in the floor to show a stream running beneath and a fish pond.