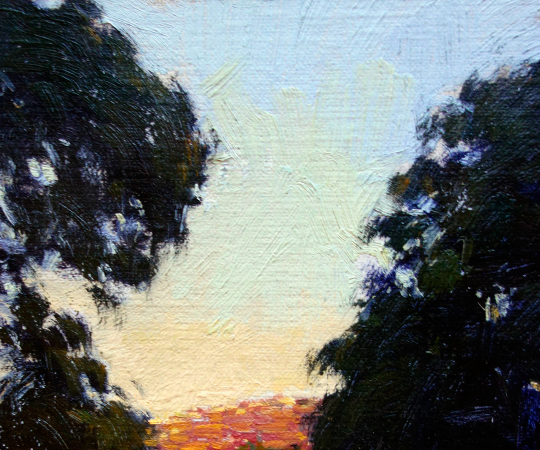 When you Hire a Painter for Your Wedding…
Rob and I celebrated our 6th wedding anniversary last weekend. A perfect time to share the results of having a painter, instead of a photographer, document our Sausalito wedding ceremony and reception.
This was back in 2008, when Rob and I were still occasionally photographing weddings on weekends as a favor to friends. Rob was using medium format film for the shoots – which made for beautiful images but was becoming very expensive to develop – and we happened to have a friend who was a painter…so we decided to go a different direction for our own wedding. For about the same price as a digital photographer, the exceptionally-talented Paul Ferney agreed to take a few photos and make three paintings from the results.
Being a friend and an overachiever, Paul ended up delivering 14 amazing small paintings to us a few years later.
I tried my best to replicate the depth of the color and the quality of the paintings in these photos, but they hardly come close.

In this post, I'll show you the pre-wedding and reception. paintings. This is one of my favorites. With just a few brush strokes, Paul captures so many personalities – I can easily pick out who was seated from the backs of their heads:
In the next, I'll share the paintings from our reception and variety show.
We also asked a couple talented friends to casually take a candid photos during the wedding – several of which turned out to be our favorites. And, we had a Polaroid camera passed around that also created some of my best-loved images from the wedding.
The trade-off for not having a "real" photographer at our wedding? We didn't get great pictures of the classic family line-up shots. Other than that, I can't think of any downside from the photo and painting choices we made. I love thinking about these small paintings being hung in the starter apartments of our grandchildren decades from now.
See paintings from the reception in Part II.