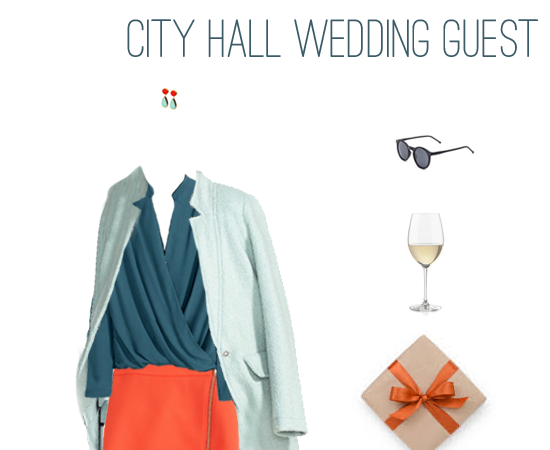 What to Wear: Guest at a San Francisco City Hall Wedding (while Nursing)
Your wedding season
requests
keep coming! Laura recently wrote in for help dressing for a wedding at San Francisco's City Hall:
I've been reading your blog forever and never had a thing to write in about until now!
I'm 34, have two kids (4 and a 7 month old nursing baby) and am going to be attending a family wedding in San Francisco at the end of March. Wedding is at City Hall, and then the reception/dinner is in Napa at a restaurant, so we'll all drive up there afterwards. We is me, husband and children. I need something to wear that is event and venue appropriate, that I can nurse in – so needs to be a top and pants or a skirt, and won't wrinkle horribly in the car.
I'm tiny-ish but bigger on top at the moment because I'm nursing. And I would say my style is somewhere in between preppy and badass. I'm going to see a bunch of family I don't often see, so I want to look good and not like a frumpy mom of two. I don't really want to wear work clothes, because that won't be very festive, but I also don't want to buy any super fancy cocktail clothing I won't be able to get good cost per wear out of.
Any suggestions? I'd be so excited if you did a What to Wear for me. I love your blog and always am excited to see it pop up in my feed!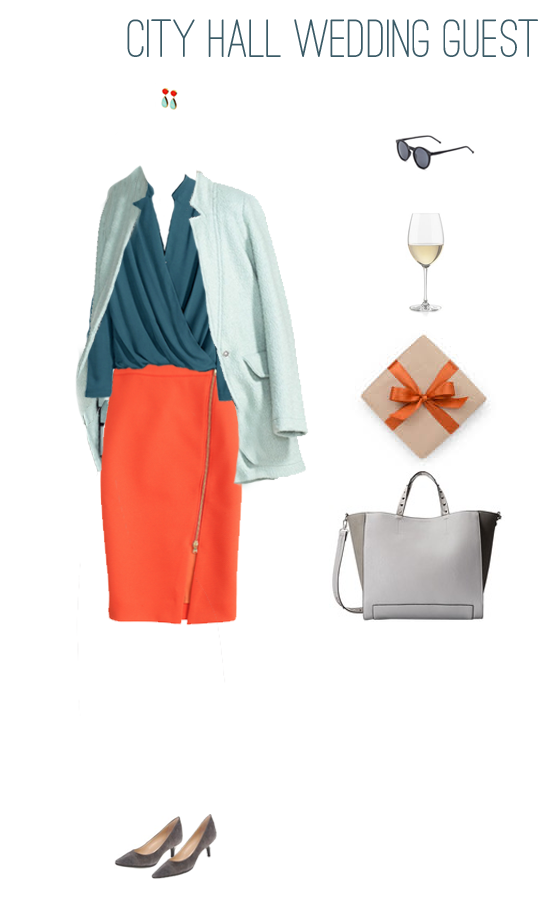 Blouse – I hate wearing silk because the fussy fabric instantly gets ruined the first time I even look at a potato chip. These chiffon blouses from H&M are so versatile – and infinitely machine-washable. I took one on our Turkey-Greece-Croatia trip and wore it constantly. This version in sage green has a quick snap closure on the front.
Skirt – The zipper on this coral pencil skirt from J. Crew is a nice nod to Laura's badass style. The fabric is a heavier bonded twill that will avoid wrinkling. I like wearing a pair of nude fishnet tights with this kind of skirt.
Coat – A light sage green coat feels so right for spring. This one is on super sale at Nordstrom Rack and here's another coat at a similar price from Asos. Either one would look lovely draped on your shoulders over the outfit at City Hall. You can never tell what the weather will be like in San Francisco in March.
Shoes – Gray suede kitten heels from Calvin Klein should be comfortable for chasing after kiddos.
Purse – A gray French Connection tote big enough for all the diapers and wipes you'll need on hand.
Earrings – Turquoise and coral drop earrings on sale for $63.
Sunglasses – A vintage-style pair from Forever 21.
All these pieces transition easily into a more casual work wardrobe. The orange skirt looks nice with white in the summer and gray in the winter. The coat would be so cute with white jeans and a navy sweater. Best of luck, Laura!