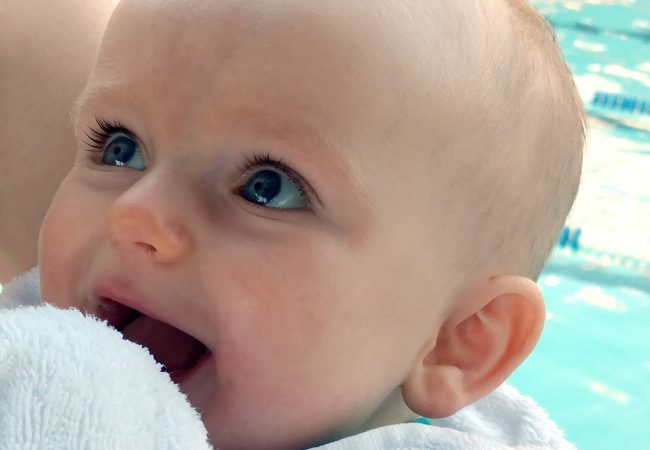 Dear Lucille: Month Eight
You are working so hard to become your own person! It is so fun watching you watch the world. There were so many big "firsts" this month: first beach, first swimming, first "mama," first skiing, first camping!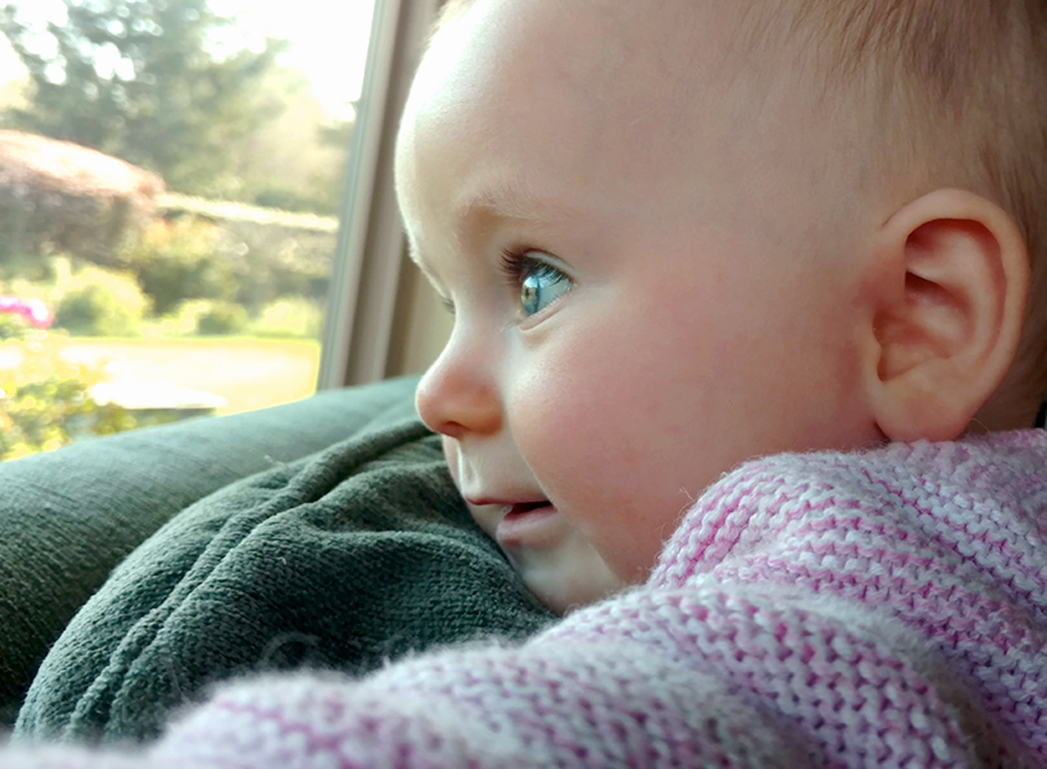 We started this month in San Luis Obispo while your Dad was in Boston for work. Always nice to spend time with family while there. Your Grandmother and Aunt Skye are so helpful.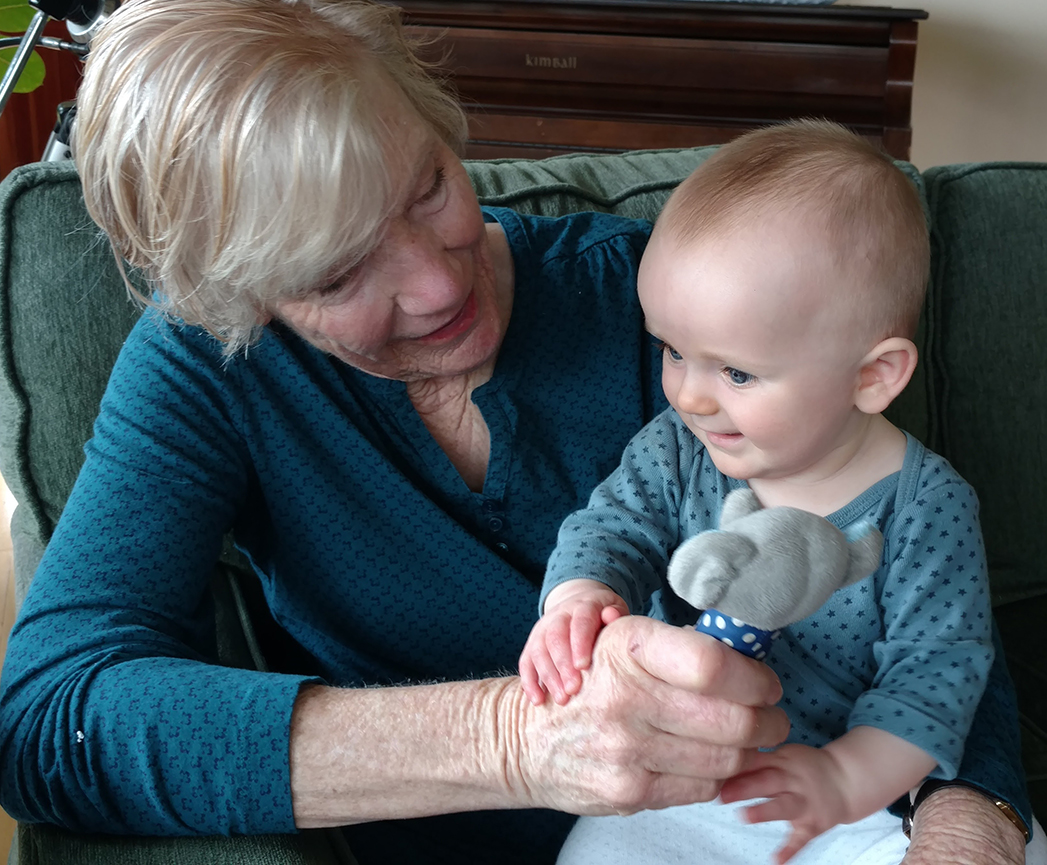 And you love seeing your Godfather Shane too!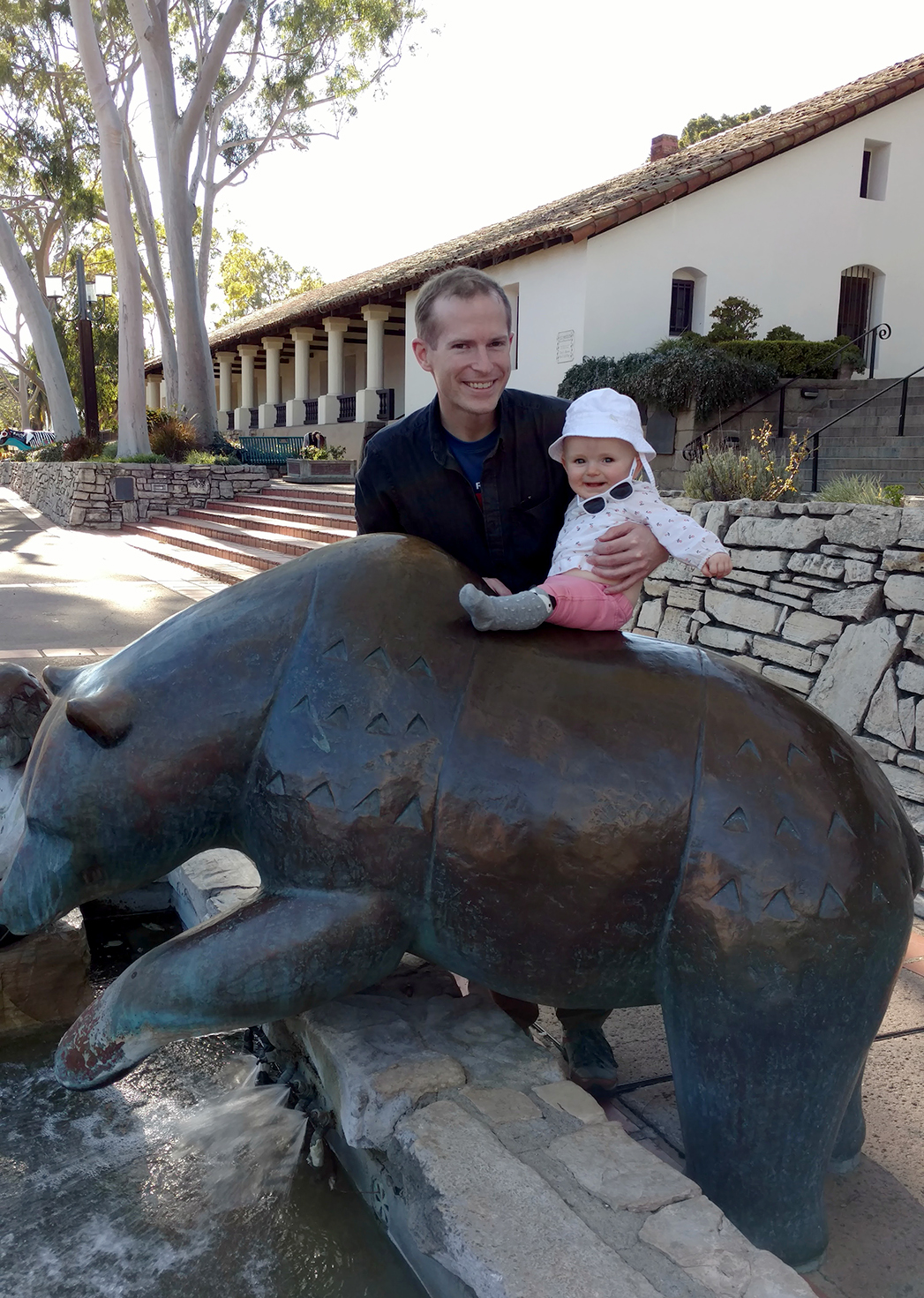 Your had your first-ever trip to the beach during that week. You sat perfectly still and watched the birds and the waves without moving for half an hour – an extra feat since you were still just learning how to sit – before deciding you might like to try biting every piece of seaweed on the beach. Still such an observant little person.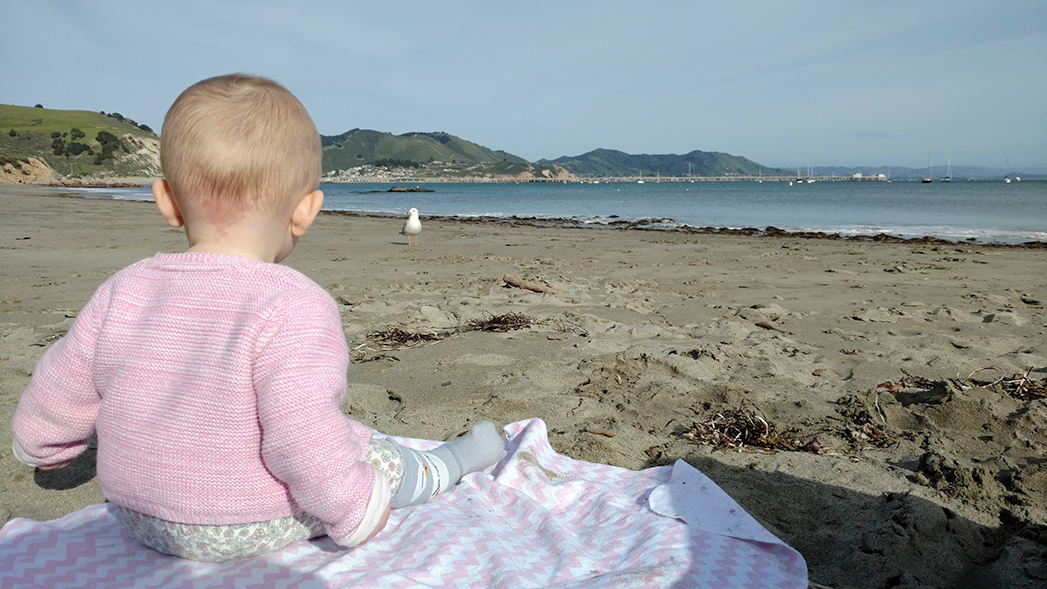 Afterward, we went to a restaurant for dinner and you happily sat in the high chair and then took a nap in your car seat under the table. I hope you keep some of these good restaurant skills as you get older.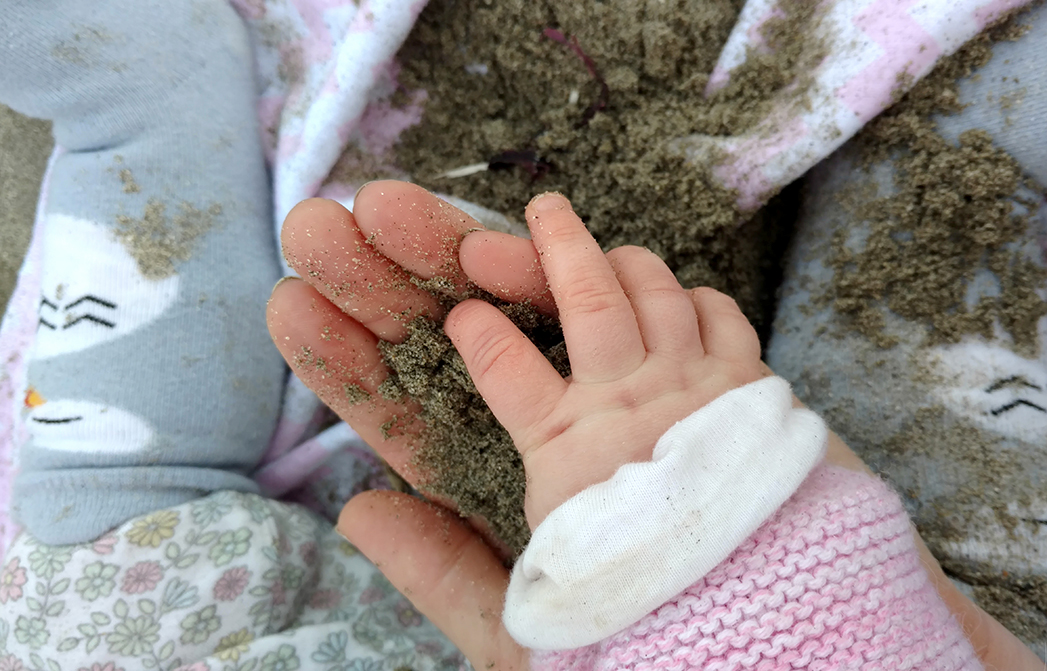 You are all about feeding yourself right now. Most of the food ends up on the floor, but you love chomping on a piece of okra or asparagus. Or, even better, a big wedged of crusty bread.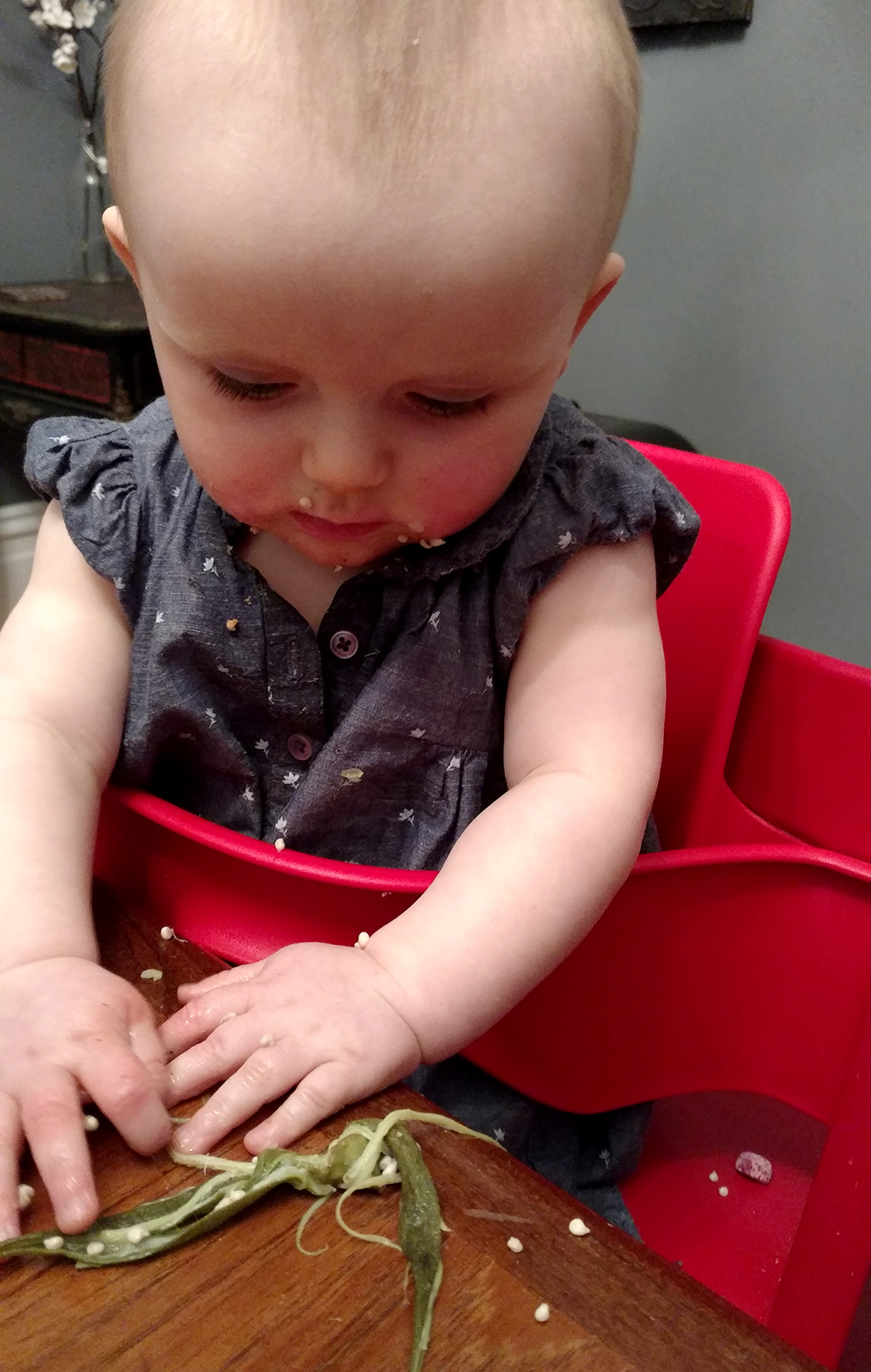 You went swimming for the first time this month too. The warm spring weather has been great for adventures! You weren't that into the slightly cold pool water but enjoyed a dip in the hot tub. (Those legs!)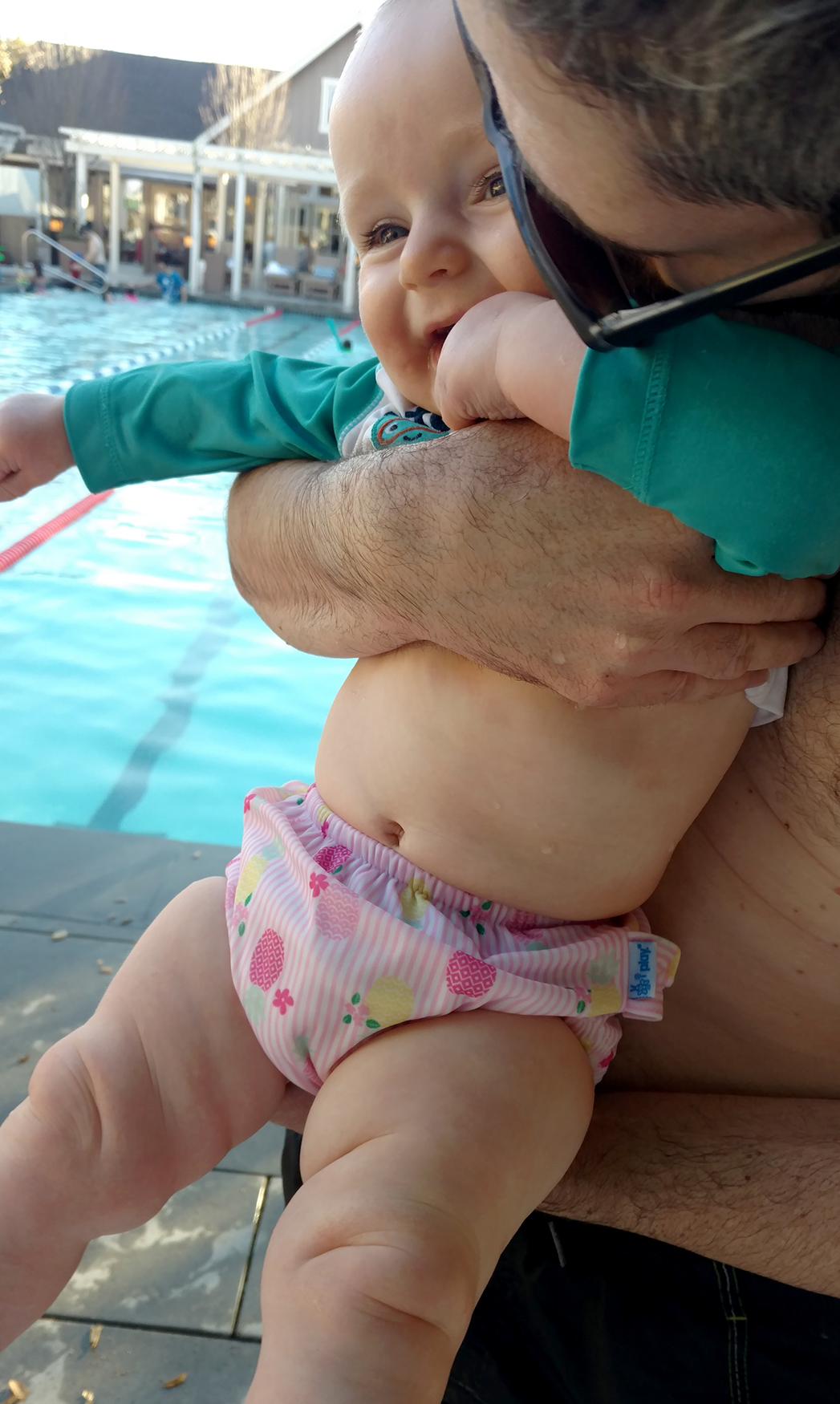 You liked the towel part best of all.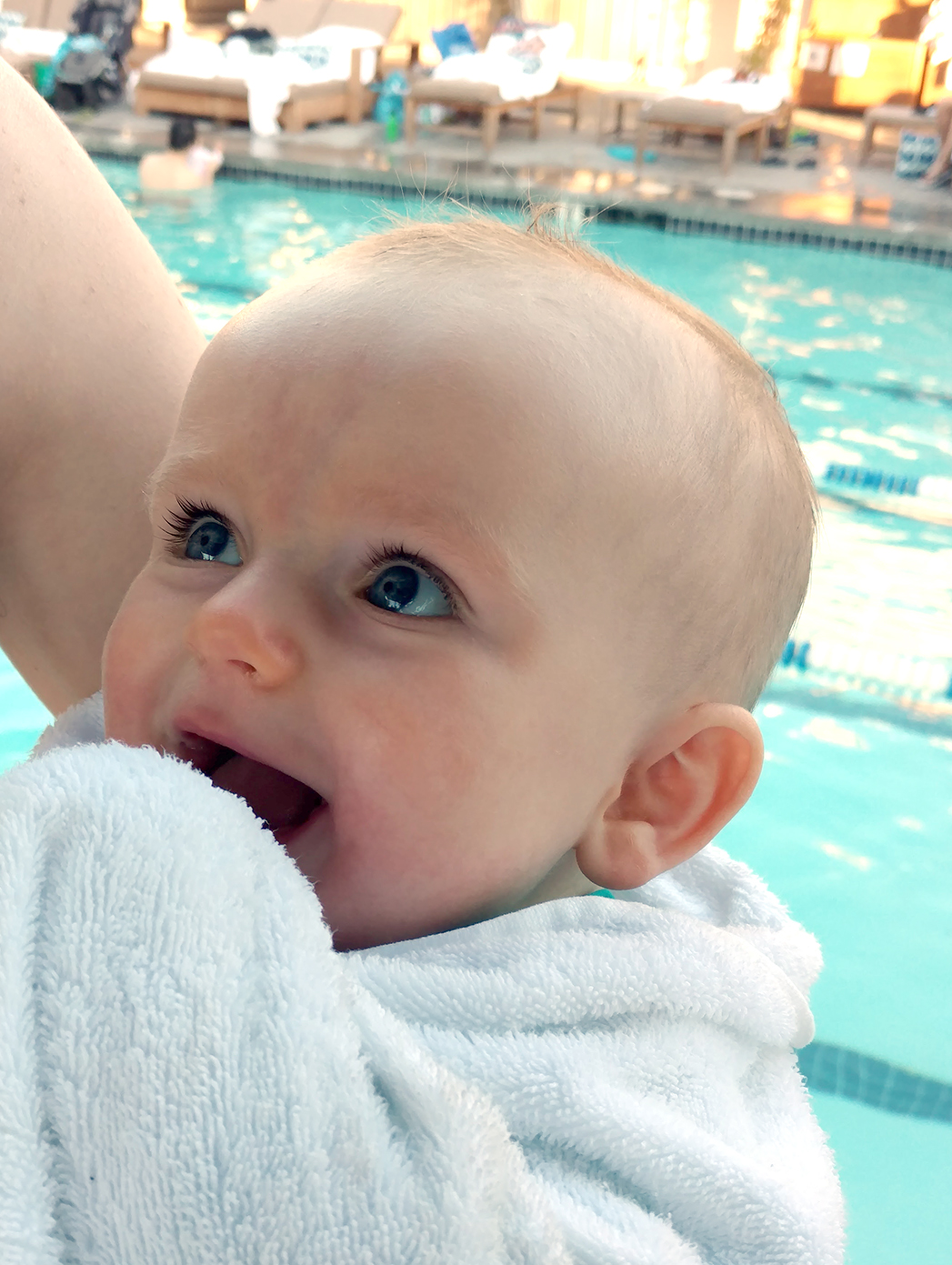 Your cousins are so cute with you. Ev especially likes to shower you with toys and attention. Your mellowness is more his style – I hope you'll be good friends.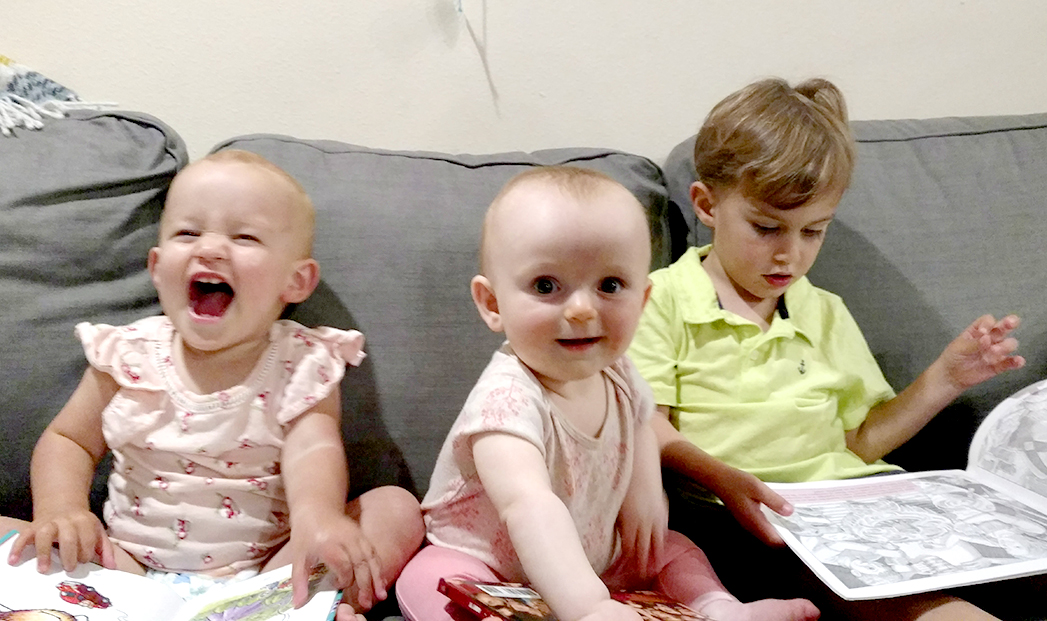 Lots of community outreach and work this month. We dressed up in red for International Women's Day and went to the protest…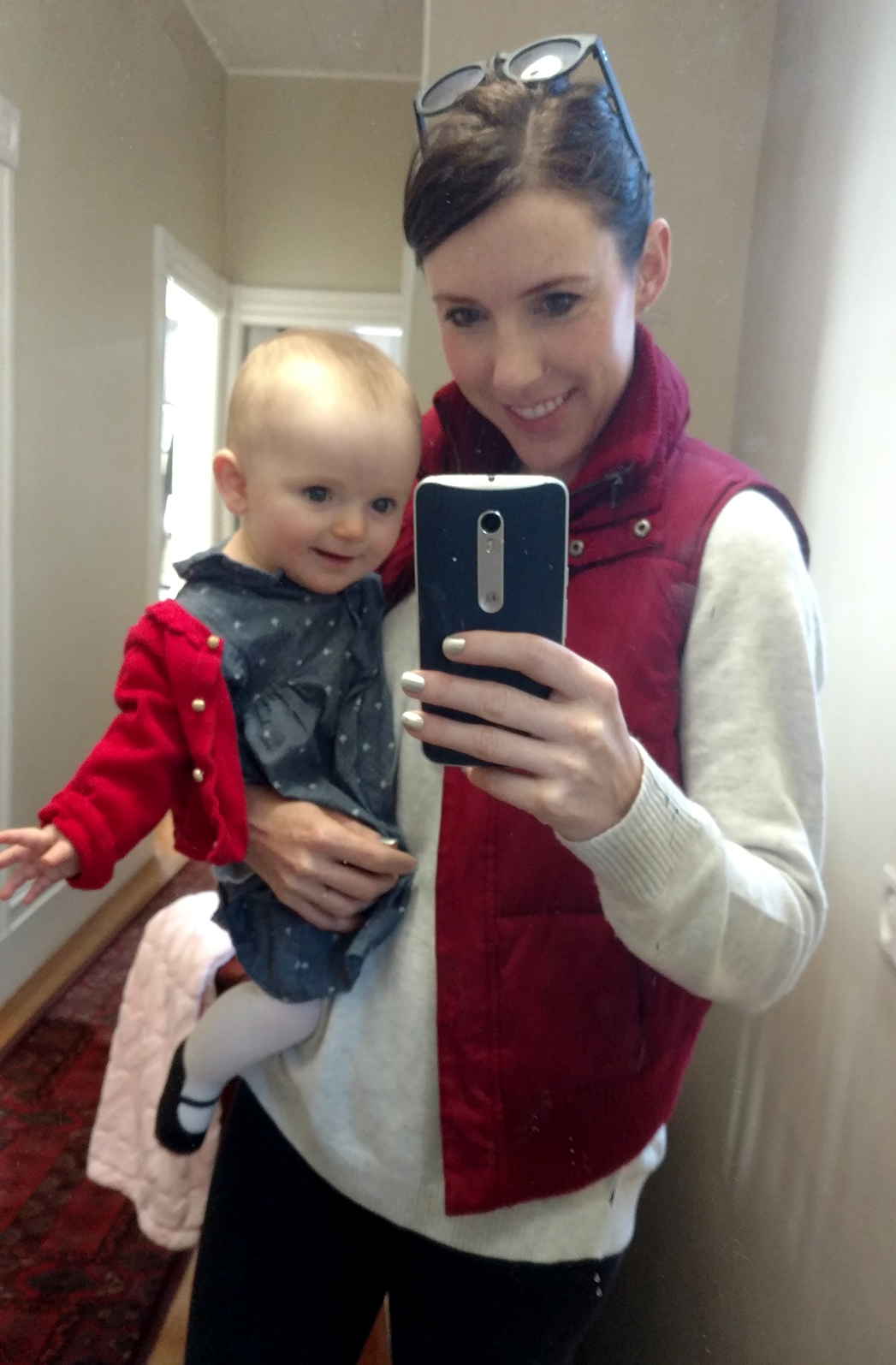 …volunteered with you on Mount Sutro…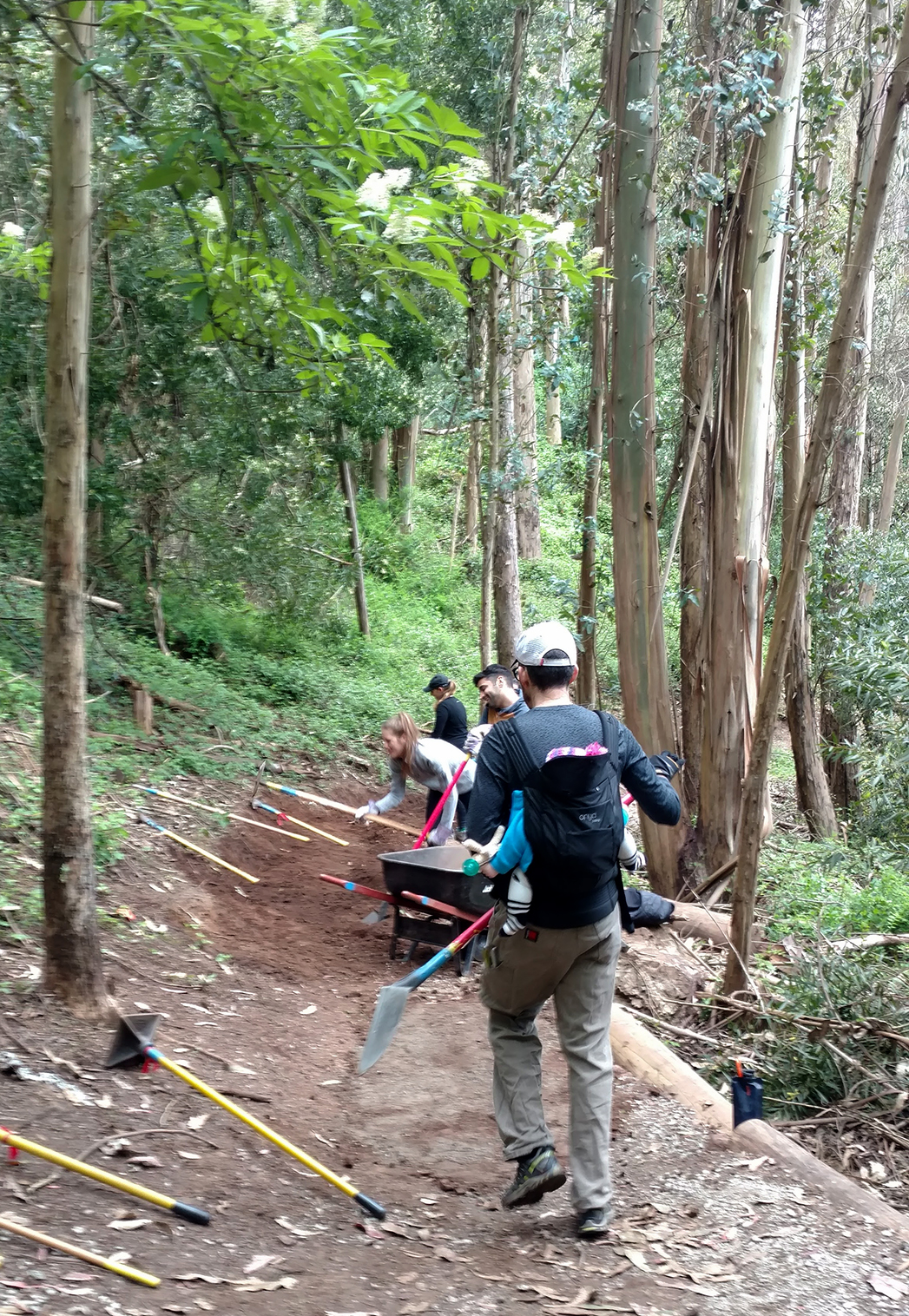 …..volunteered at Laguna Honda….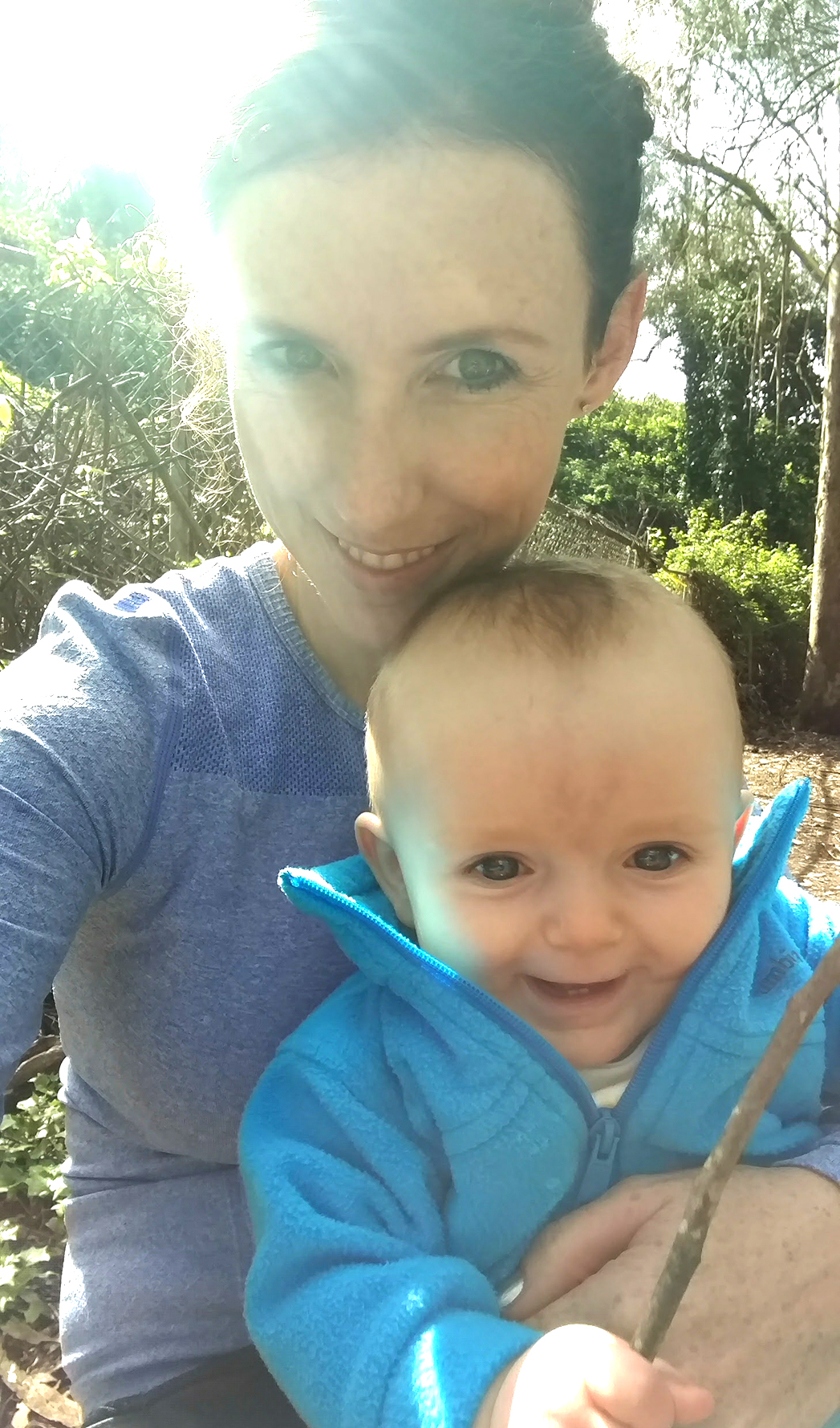 …and delivered food to new babies.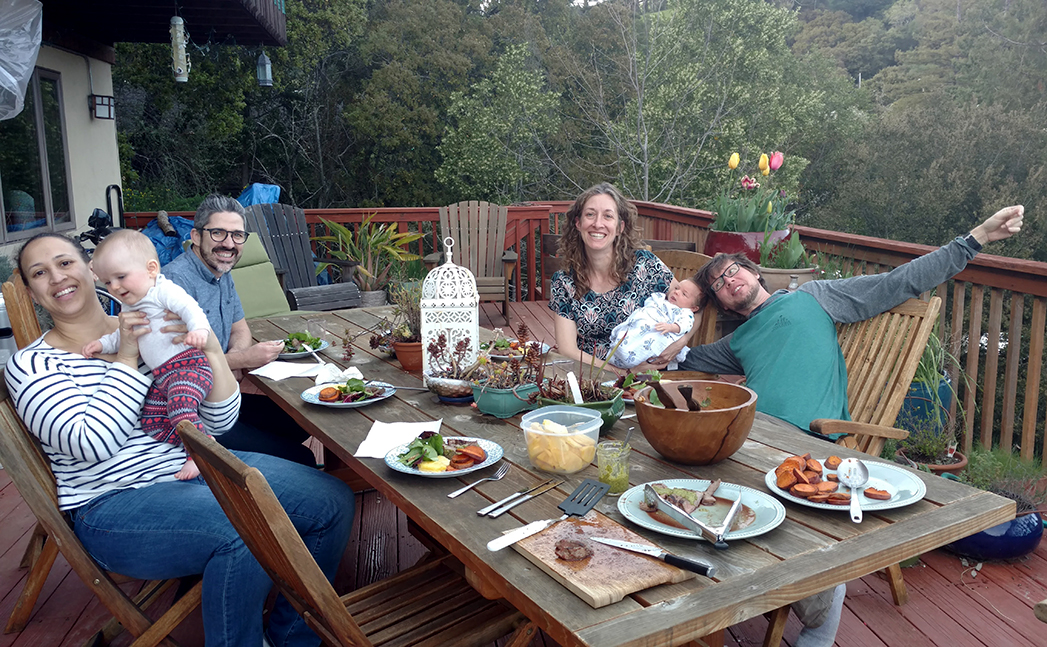 You don't mind all the pizza that comes with volunteering!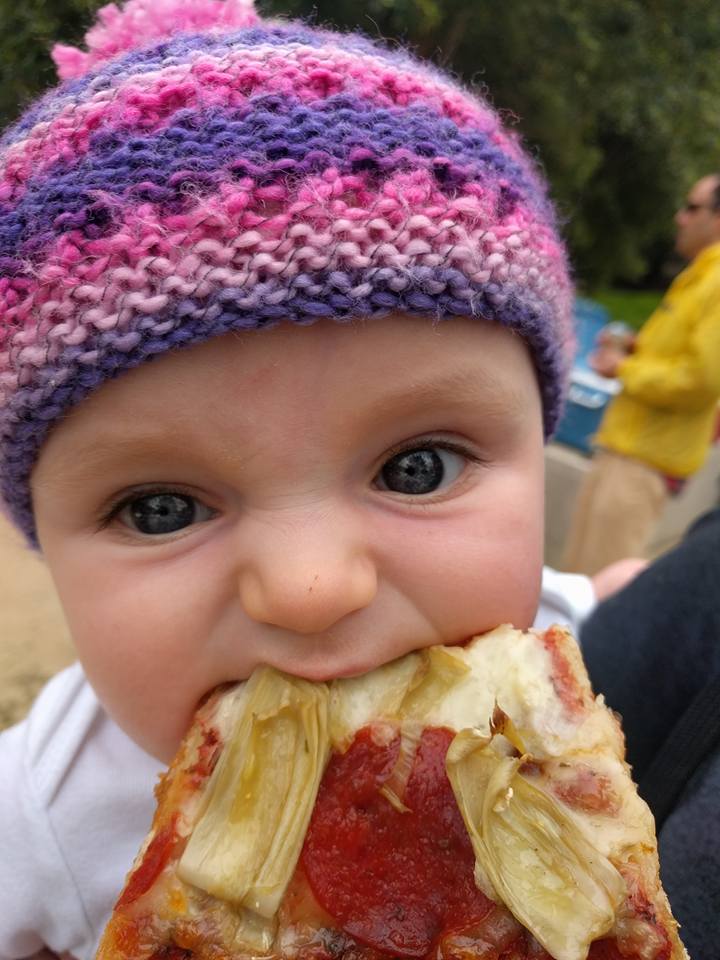 You are SO cute!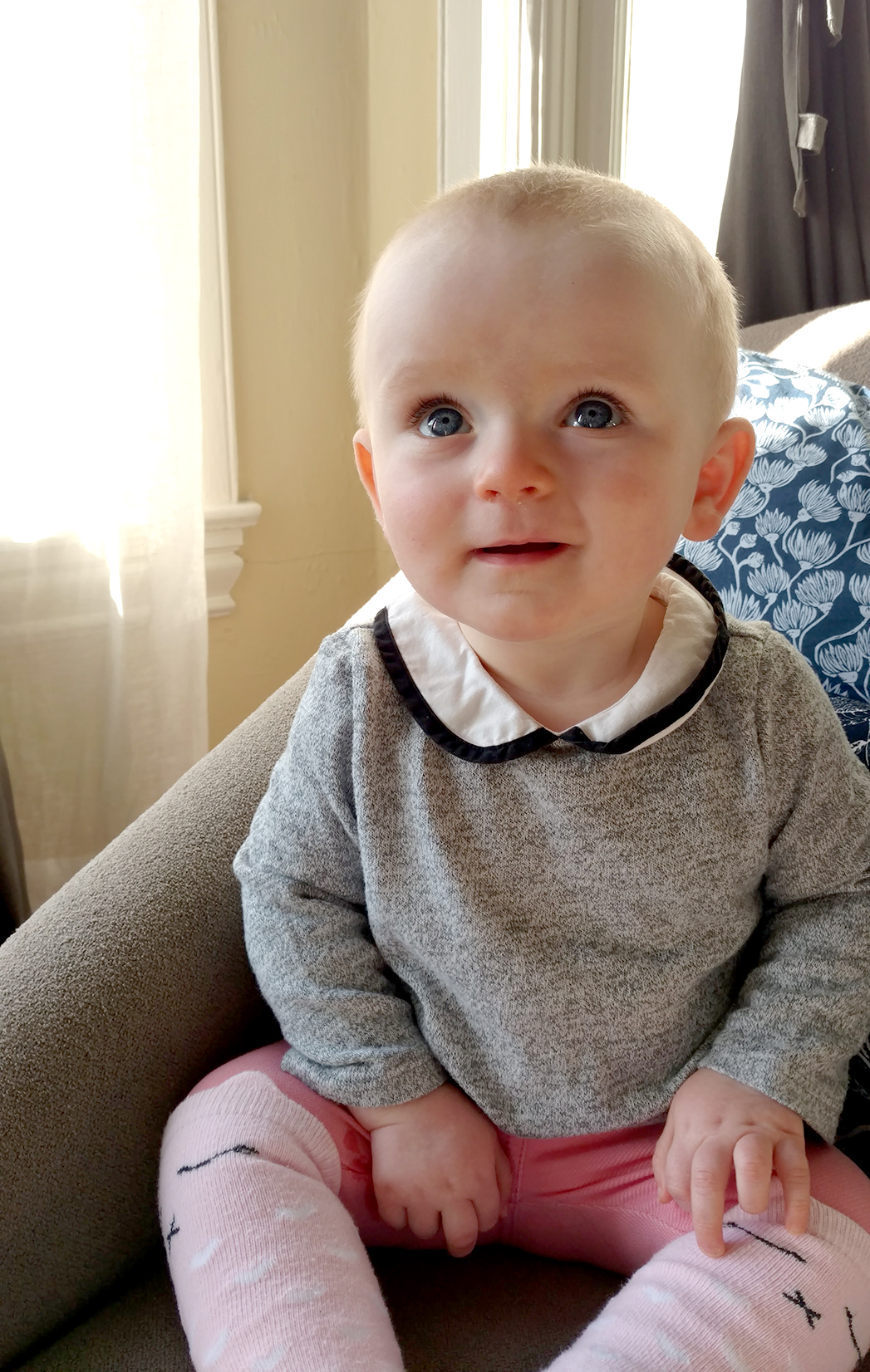 You are also a bed hog.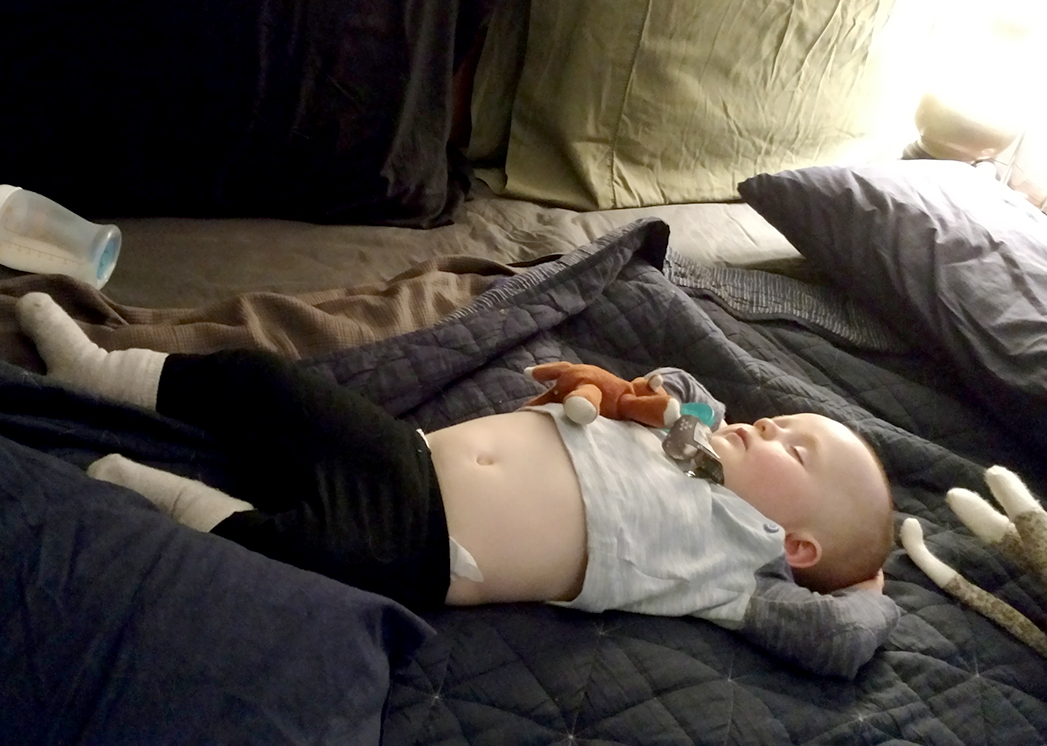 We installed baby gates in the house. You're not quite ready to use them yet. You work so hard on your crawling every day – doing endless planks and push-ups.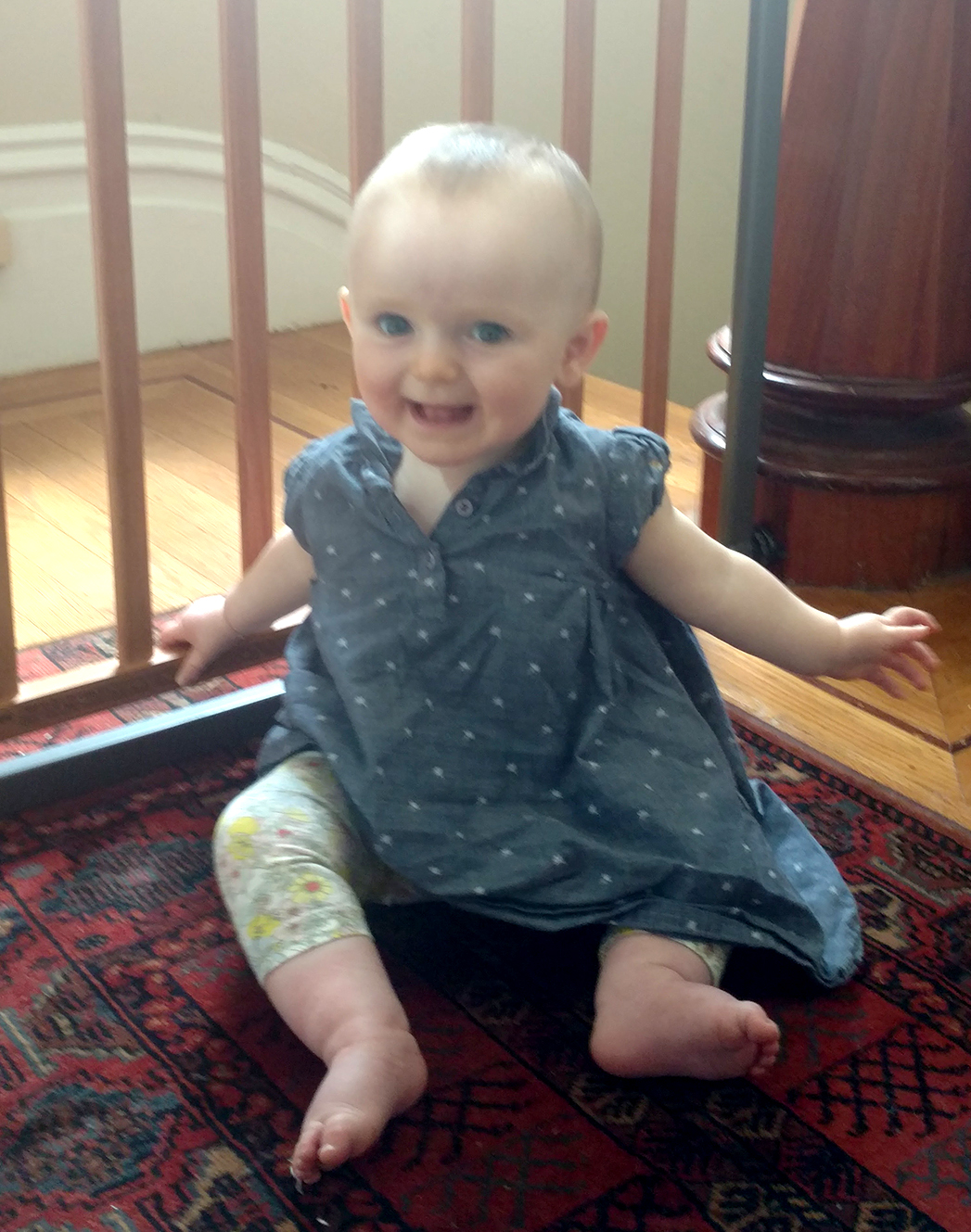 You're getting very good at sitting up.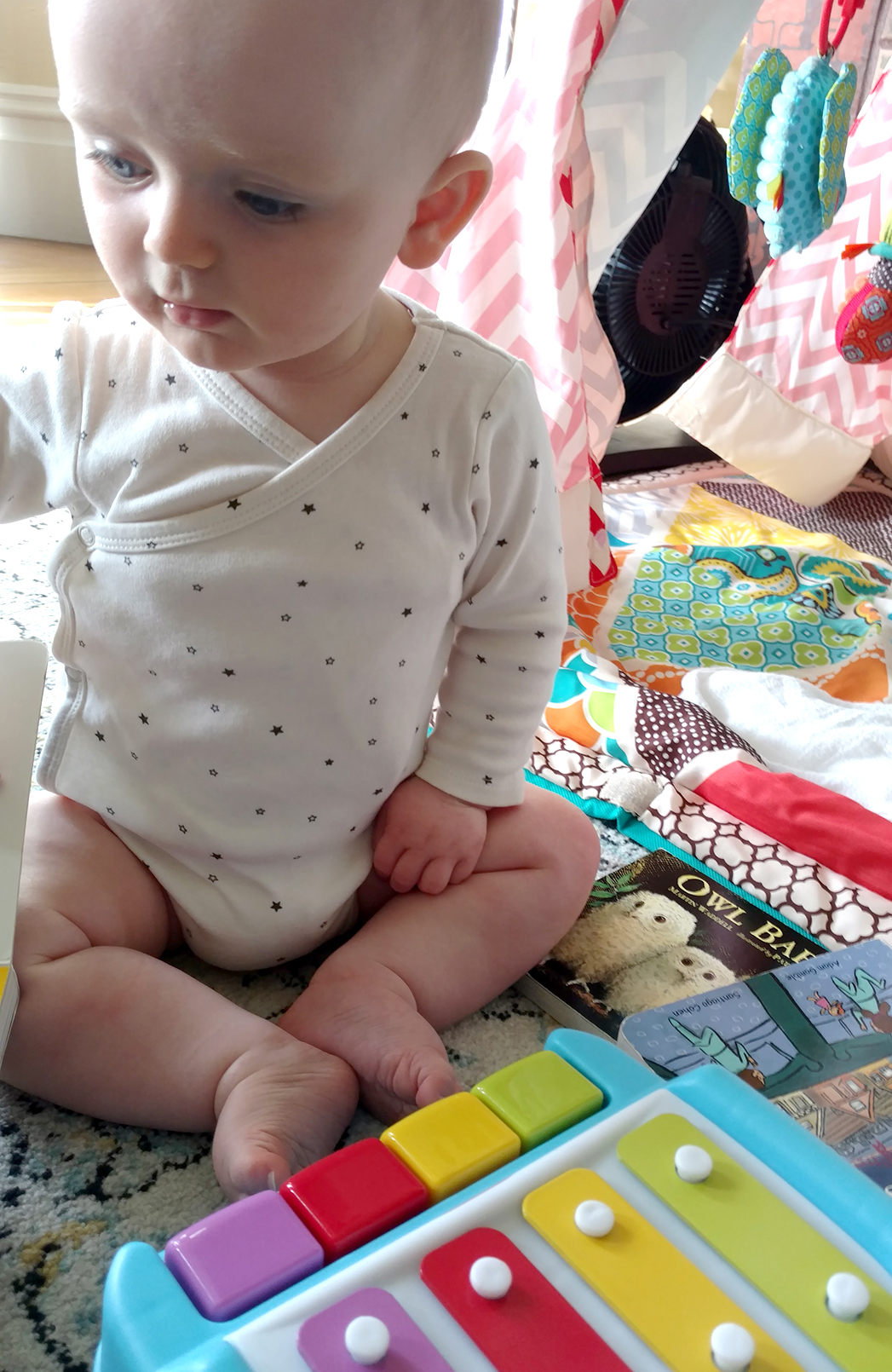 You charm lots of strangers when we are out around town. Everyone wants to learn more about you.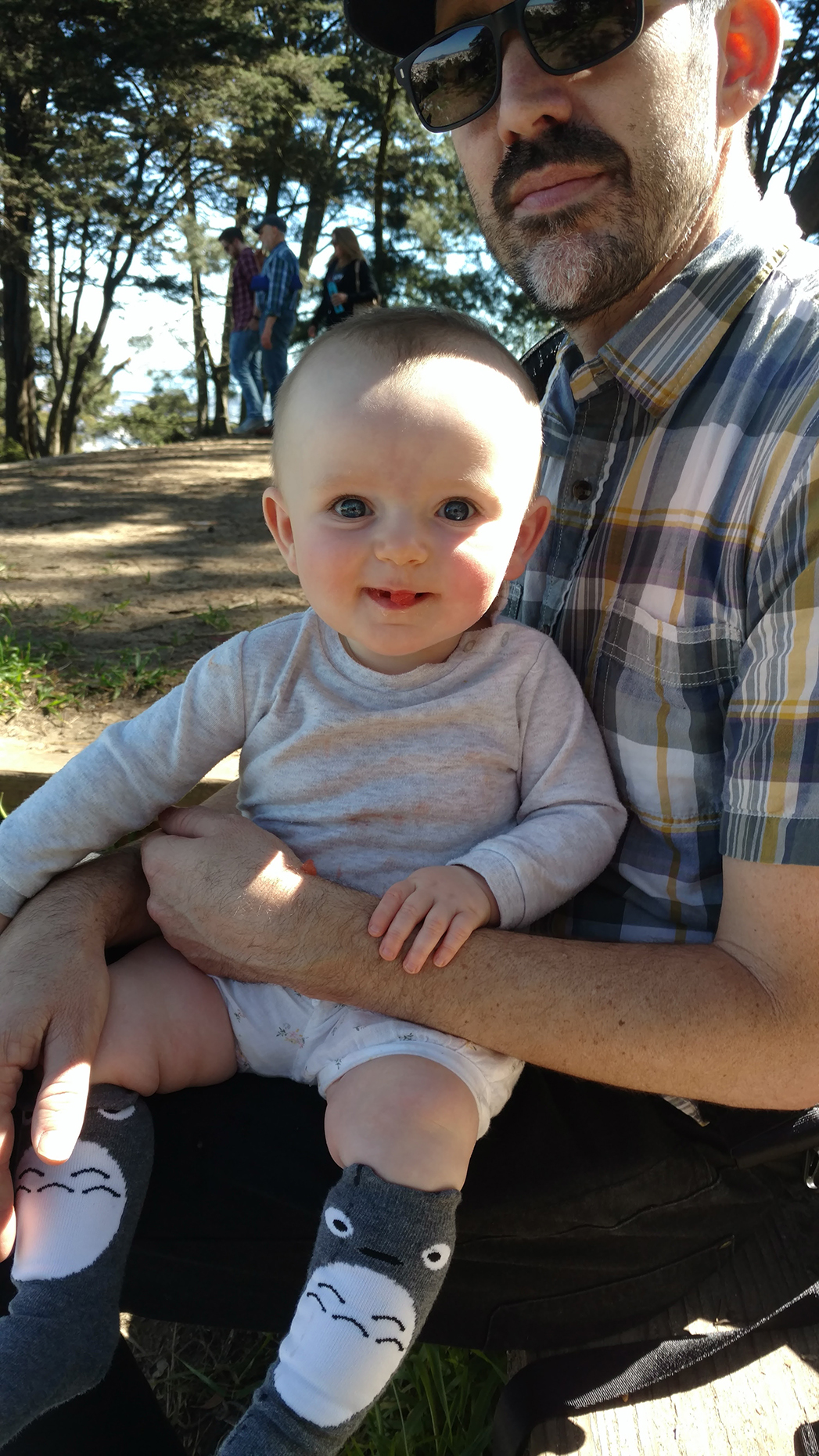 You developed a sense of humor this month, and it is so interesting to see what you find funny. Certain sounds, like when the pigs in the book sing "la la la," crack you up.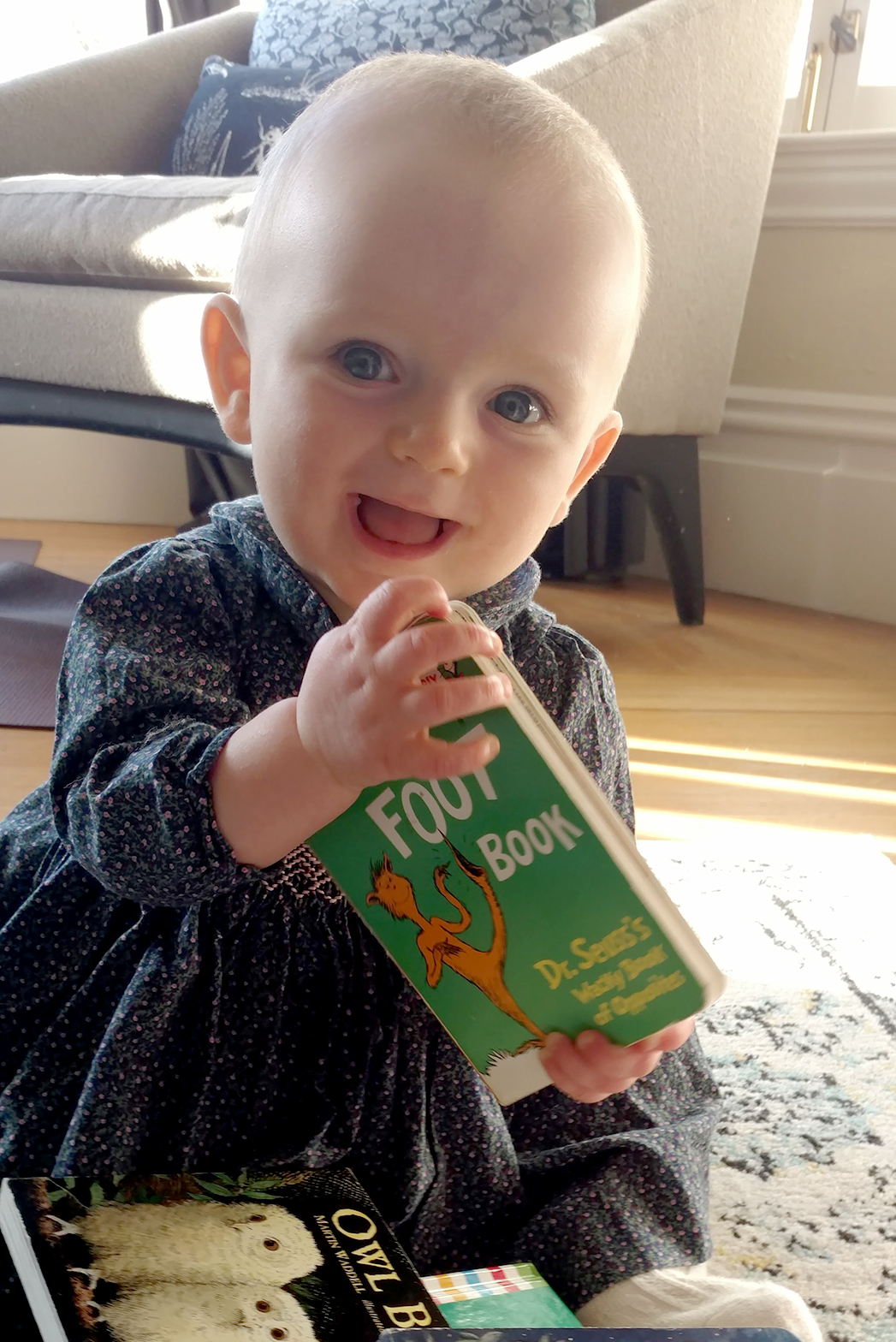 You also learned to say "mama" – and for a couple nights you would say "mamamamamamamamamama" in the middle of the night until we relented and let you into bed, where you immediately fell asleep like a cozy little bed bug.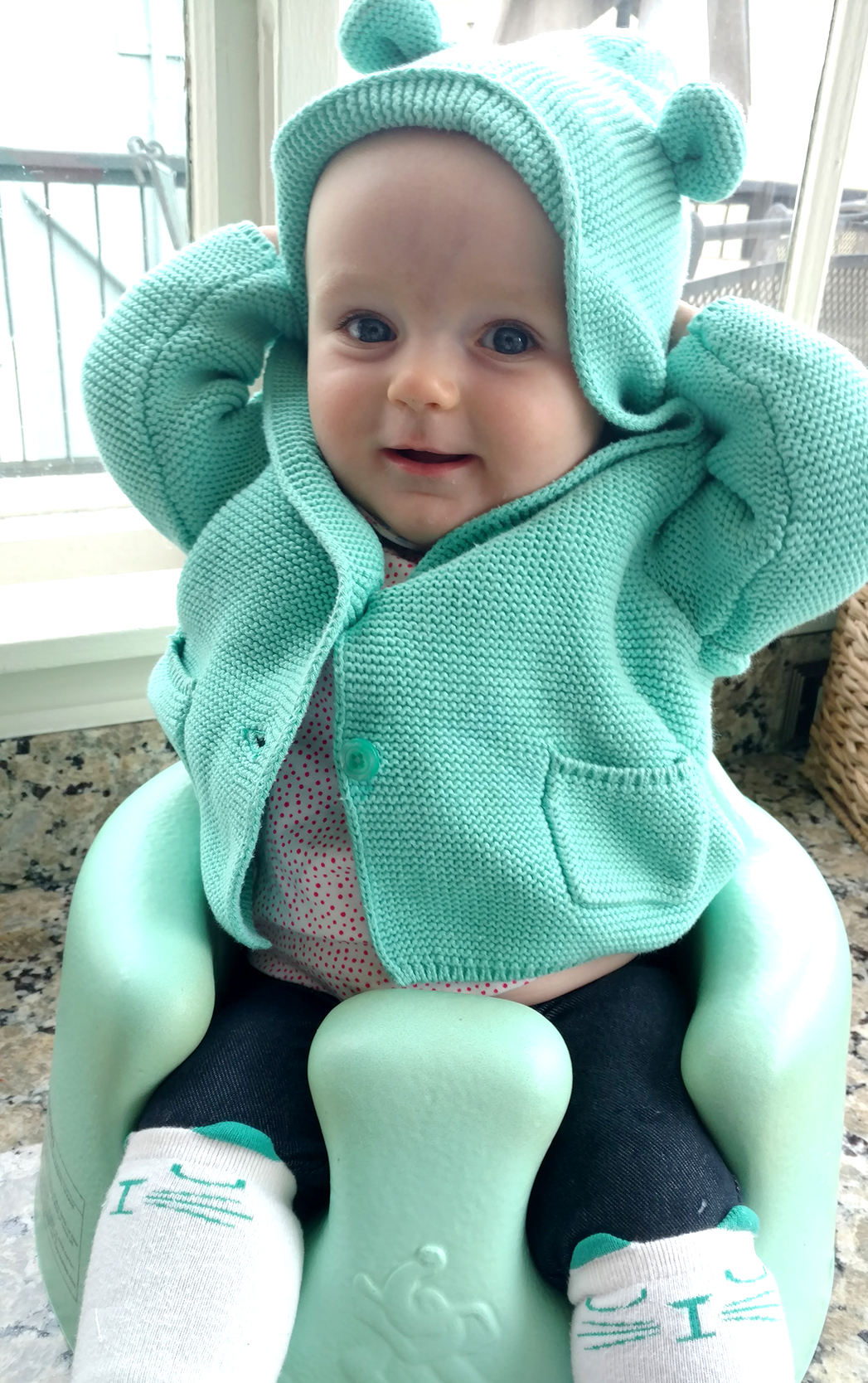 We took you on a last minute trip up to Tahoe for your Dad's birthday at the end of the month. He loved taking you out in a "carriage" sled on cross country skis.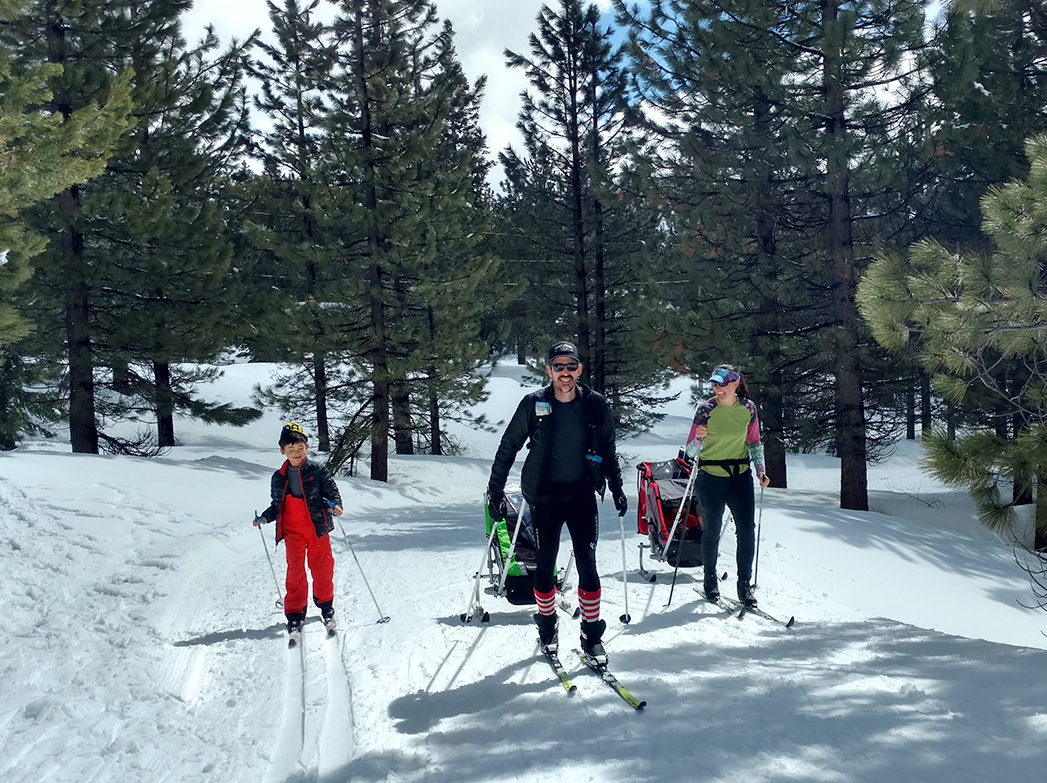 You loved sleeping in the carriage…and in the lodge next to the warm fire. You are getting to be a good sleeper again. Usually only waking up once per night!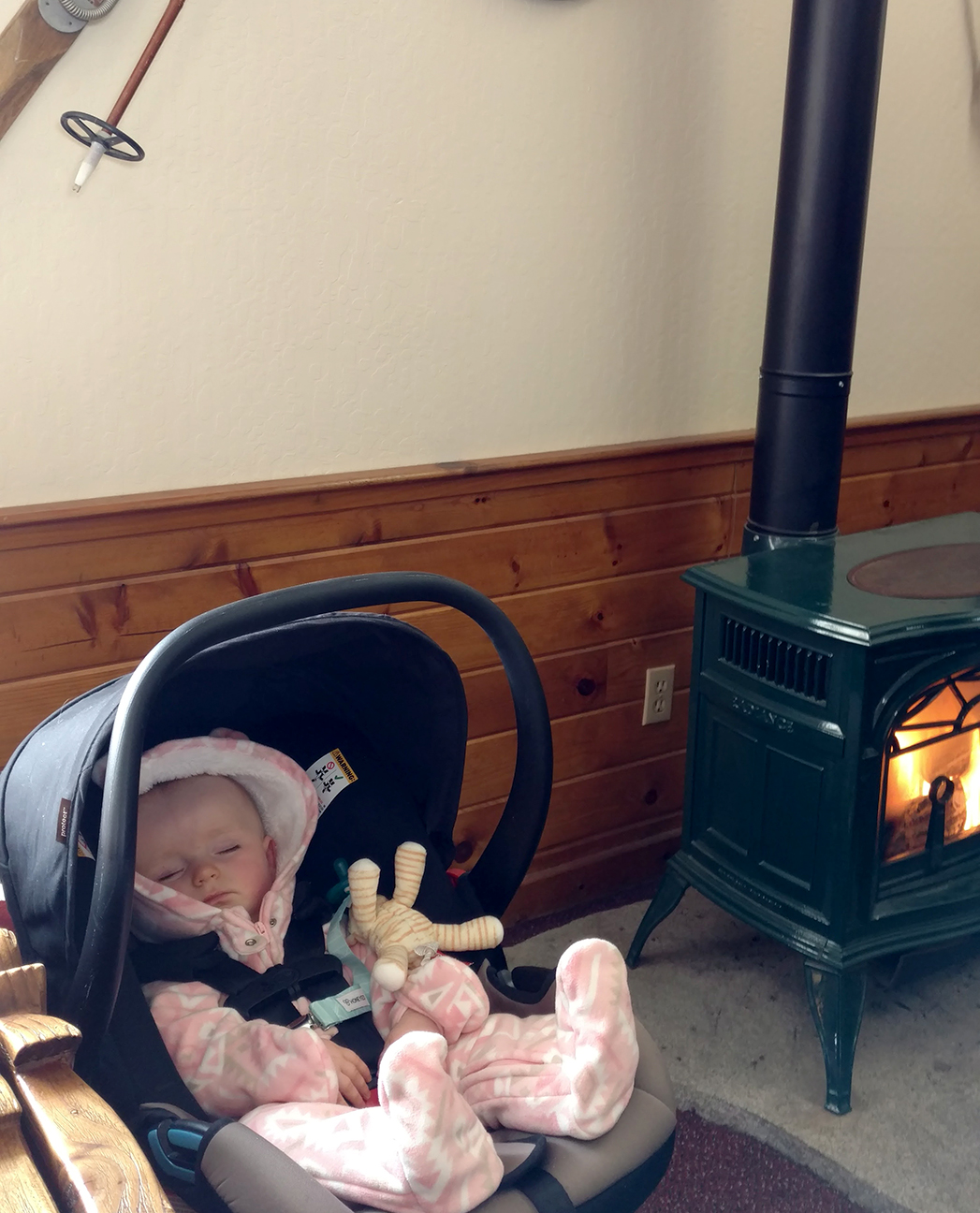 Your first warming hut!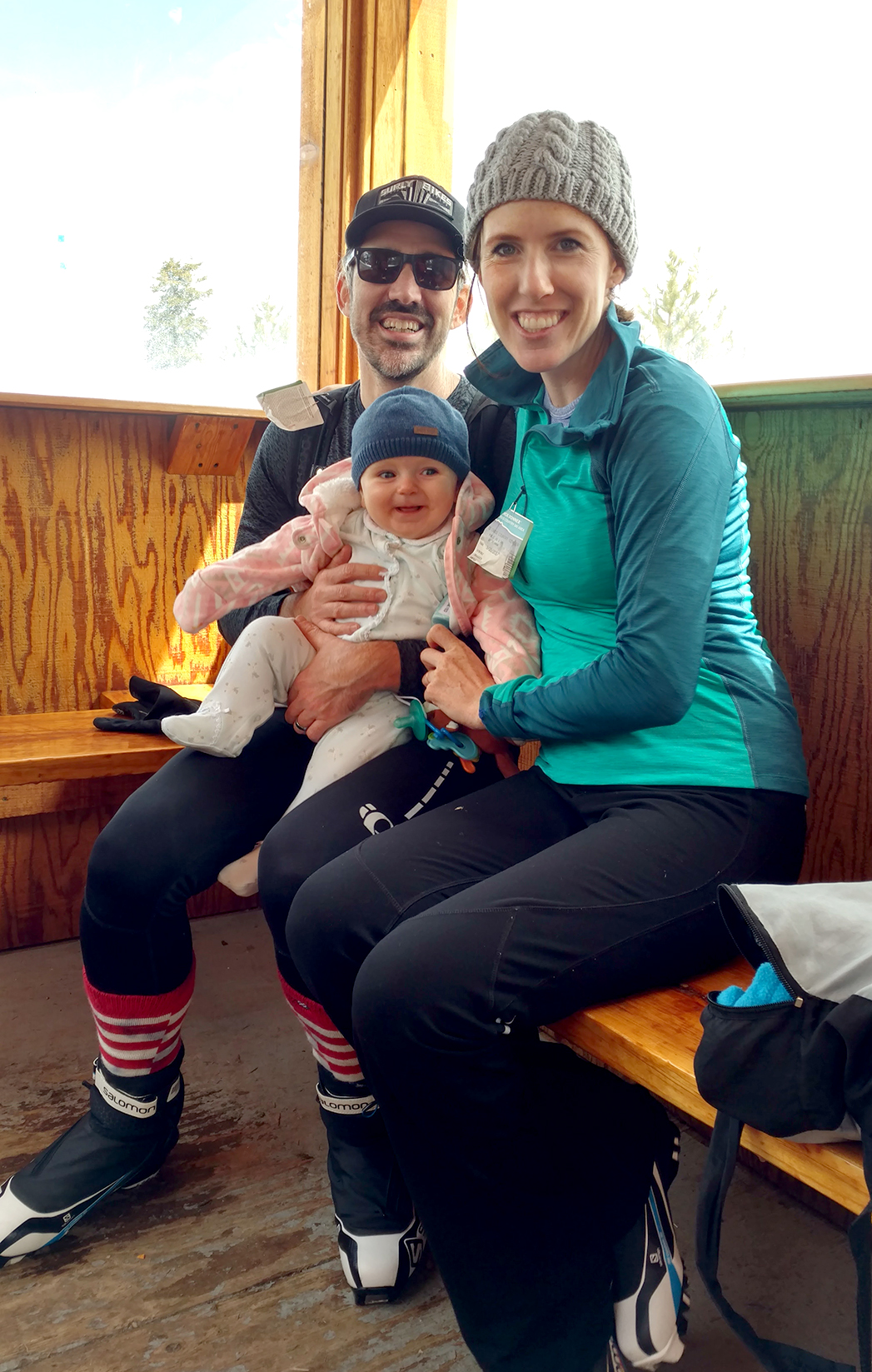 You are impressively strong when it comes to grabbing everything in sight!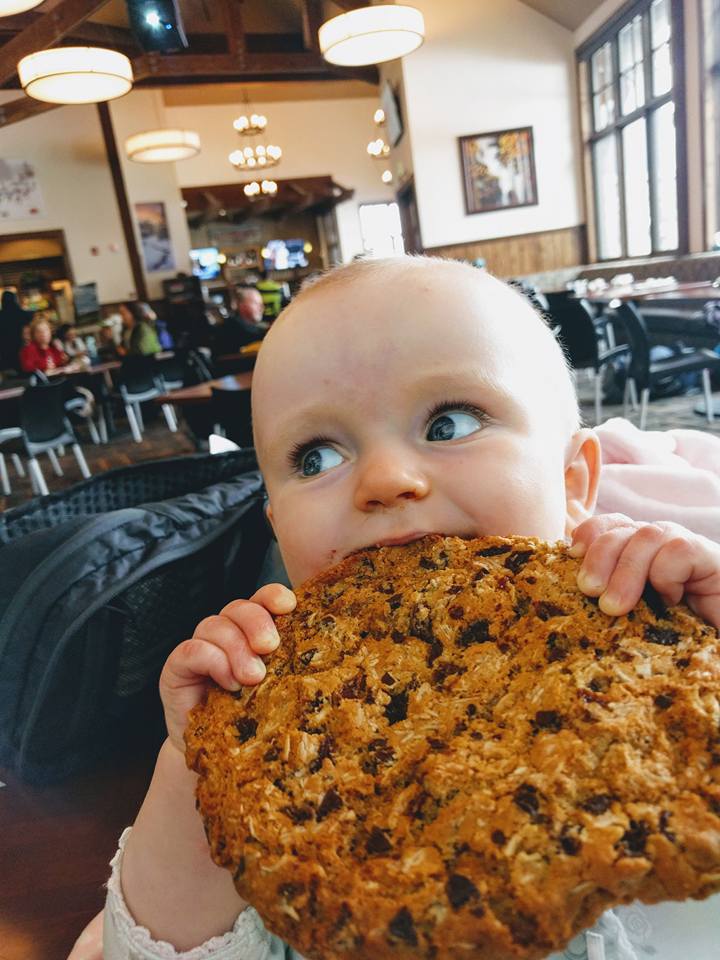 What a lucky girl!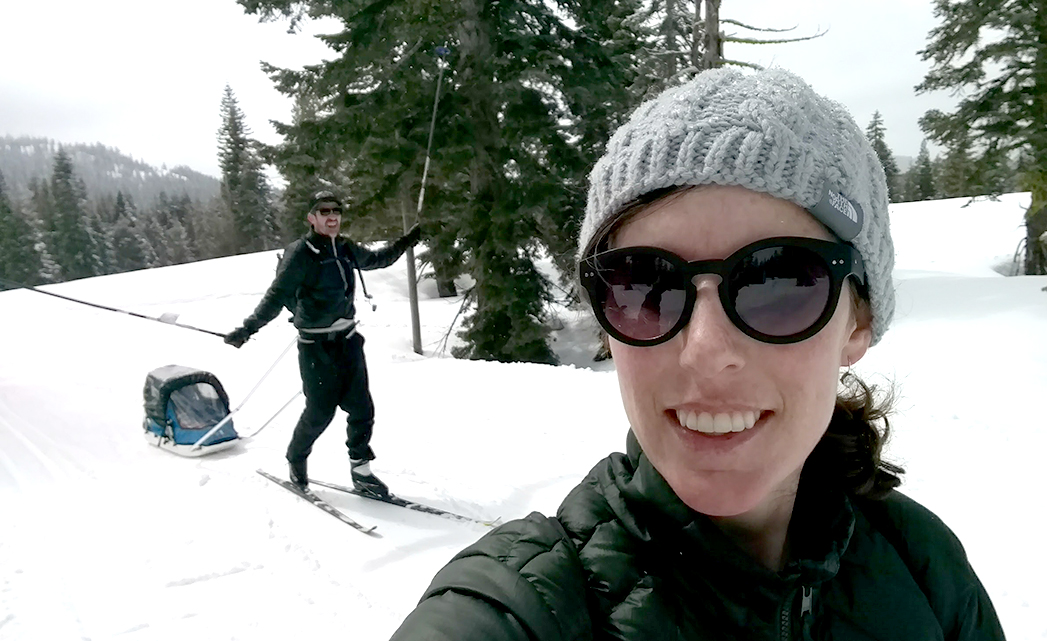 At the end of the month, I went to LA for a friend's bachelorette party and spent my first-ever night away from you. Your Dad cleverly decided to take you camping for the night up in Vallejo.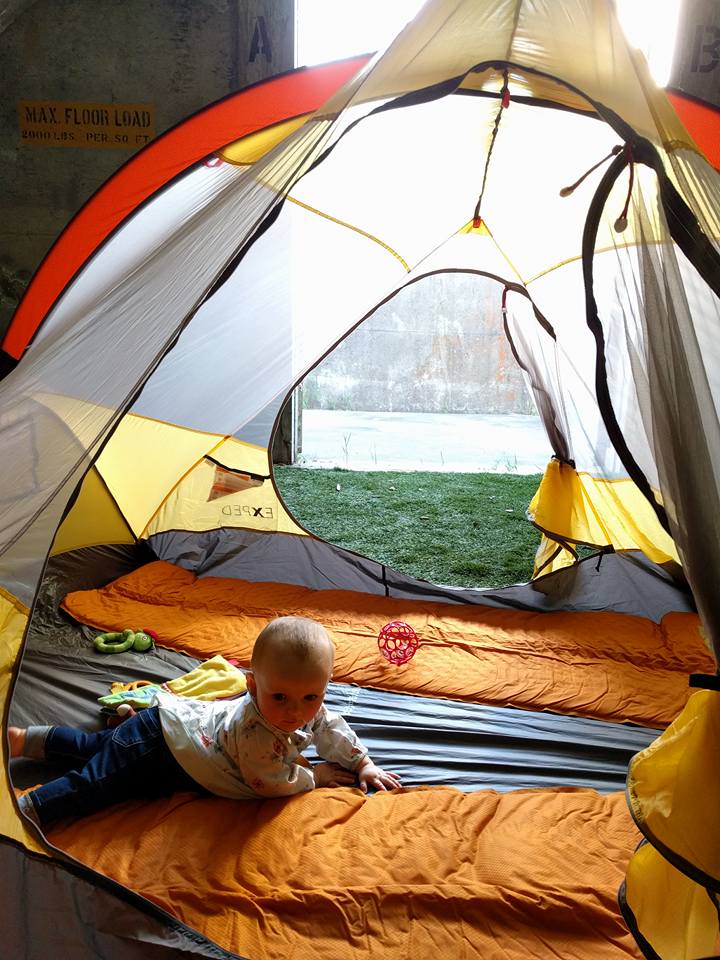 He even dressed you in a cute outfit for the adventure (although your top did happen to be on backward).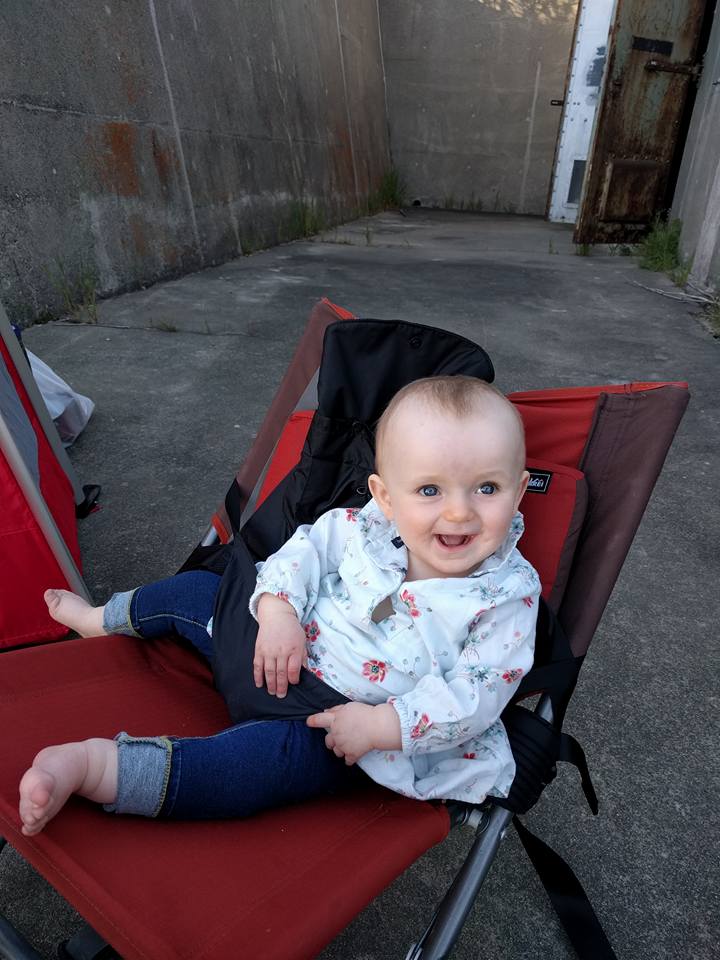 You are the best!