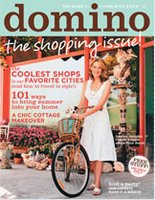 I can't be the only one who feels this way…I am a Domino Magazine subscriber and, although I like this mag's design ideas and tips, I am starting to hate it.
You see, Domino loves to feature the same breed of wealthy and fabulous young women in each issue. 27 year old interior designers, business owners, socialites and VP's. They each have their own remodeled huge house or deluxe apartment and they all have dogs and big yards. For example, their recent profile of a carpet heiresses with a two bedroom apartment in Manhattan with big closets full of designer purses. And it's not like Vogue, that is admitedly unrealistic. Domino touts itself as completely reasonable!
For a city girl who rents, has no yard, no dogs, no self-made millions and takes the bus to work, these profiles can be quite depressing. It makes you think that if you were just more motivated, you too could have a three bedroom apartment decorated by Jonathan Adler, a lot of modern art and two pugs . I think the best solution is to just stop reading Domino Magazine!