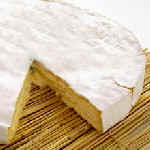 Things I love today: Brie
When you are having a bad day, you sometimes just need to spoil yourself in order to break out of the funk. After missing the bus and breaking my sunglasses this morning, the rest of my day has been rather sour.
Chocolates and lattes would be nice, but for me it's all about the cheese. For lunch, I had a huge baguette and brie sandwhich from a French restaurant down the street. Carbalicious! I'm feeling better already.