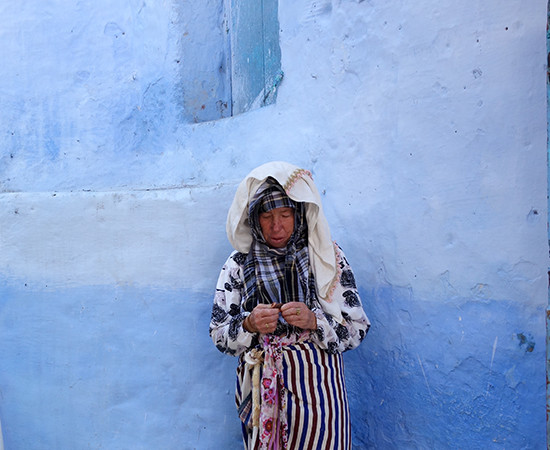 Market Day with the Women Farmers of Chefchaouen, Morocco
Monday, Thursday and Saturday are the market days in Chefchaouen – the day when the farmers of the Rif valley come down to the tiny blue streets to sell their wares. A perfect day for Lauren and I to go for a bit of shopping on her last day of vacation. The prices here were WAY lower than Fes from the very start and the negotiation process much more jovial. I like a bargain where there's a bit of back and forth before seller still feels like they got a crazy "westerner" price for something and I spend less than $10.
From what I was able to roughly translate from Spanish in a museum – the women in the Rif valley take the lead in farming and there was even a famous female military general in their history.
The women wear fairly elaborate outfits starting with a straw hat topped with pom-poms, a silk fringe headscarf, a shoulder scarf over a blouse and a woven light rug tied over pants or a skirt. It's not for tourists sake – we saw this combination on women farmers all through our drives in the countryside. They didn't like to be photographed, so I just had a few pictures. It must be incredibly hot to wear all that while standing out in the sun cutting wheat with a sickle.
Later in the week, our friends dressed Rob and I up in the garb – so stay tuned for those photos.
I bought a few peanut-sized cherries from one woman and she ran it down to the end of the street to be weight on share a balance scale. Some Moroccan hiker tourists were loading up on supplies too.
There's so much online about Chefchaouen's dominance as the marijuana growing center of Morocco but we didn't encounter it much – only when Rob was biking way out in the farm areas with his local buddies. Many of the women were selling other kinds of mountain herbs. Our friends at the hotel would make the afternoon mint tea with these – tasting like oregano and sage.
Lauren and I kept wandering the medina and ran across some weavers.
We started a conversation with a young carpet seller in the north side of town. He very helpfully pulled out almost every rug for us to see with no high-pressure sales pitch.
Lauren and I ended up buying three pretty large handmade rugs for a grand total of $75.
It turns out that this was a special market day in town, as everyone was bustling to get ready for a pre-Ramadan holiday in town the next day.
Lauren and I wandered the medina a bit more and bought some of the traditional rug/skirts for $2 each and shawls for $6 to be given as baby blankets.
One last stop in to a touristy soap store before our afternoon hammam adventure began.