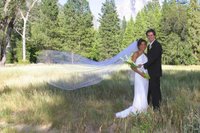 Crafty: Wedding in Yosemite
Paul and Celeste are getting married in Yosemite this weekend. Rob is the photographer, our friend Ken is the official, Ken's girlfriend and I are the guests….and that's it!
The couple hasn't done much planning aside from setting the date and picking out their outfits. They turned the rest of their wedding preparations to us this weekend! How exciting!
The ceremony is going to be out at Glacier Point. I am working on getting a bouquet, boutonniere and a bunch of rose petals ordered right now. I'm also going to bring a set of glasses and champagne. I think Ken is picking up a cake in LA.
What else should we do? I'm opening this up for suggestions from you! Jordan, I know you have some good ideas. Keep in mind that everything has to fit in our tiny Miata trunk. Brainstorming starts now in the comments section!