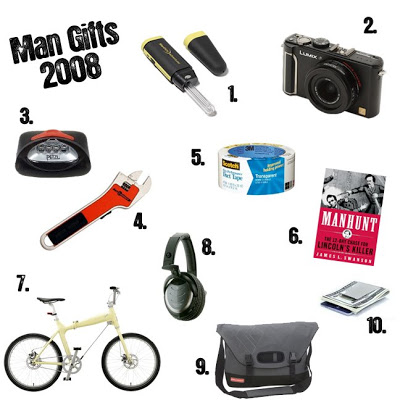 It's that time again! I've wrangled Rob into helping me brainstorm the best gift ideas for the men on your Christmas list. From your significant other to brother-in-laws to teenage cousins, we've got the goods for you: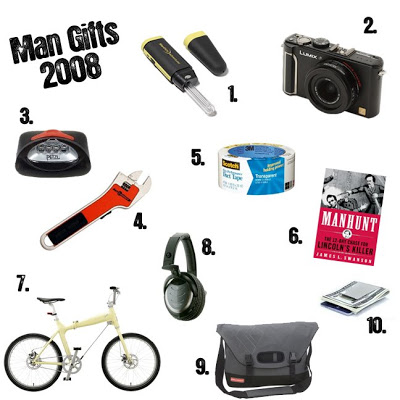 1. SteriPEN Adventurer Water Purifier – Sterilize any water in seconds with this little UV device. Perfect for campers, backpackers and outdoorsy men. $100.
2. Panasonic Lumix DMC-LX3 – Classic styling with sweet digital photo specs and a Leica lens. This camera is Rob's current favorite recommendation. $400.
3. Zipka Plus Backcountry Petzl Headlamp – Bright and compact, this little headlamp is great for everyday use and can easily double as a bike light. $35
4. Auto Adjusting Wrench – The hotest man-tool on the market and on sale for $20!
5. Transparent High Performance Duct Tape – Rob loves tape! This clear duct tape from 3M is top of the line. You could boost it with the addition of a 6 pack of different colored duct tape.
6. Manhunt – A very well written history of the 12 day chase for Lincoln's killer. Rob and I both liked this book. $11.
7. Puma Urban Mobility Bicycle – This one breaks the bank at $1,600. A folding, glow in the dark, city bike with loads of style. Perfect for an urban commuter.
8. Skullcandy Noise Cancelling Headphones – Rob has a pair and loves them. A great gift for frequent travelers and cubicle jockeys. $79.
9. Black Diamond Pavement Messenger Bag – Room for a laptop with a dash of bike messenger style. $79.
10. Smart Money Clip – A compact and streamlined way for the man in your life to carry cards and cash. $19.
Whew! There you have it. 10 man-gift ideas for the holiday season! You can see last year's Man Presents list here.