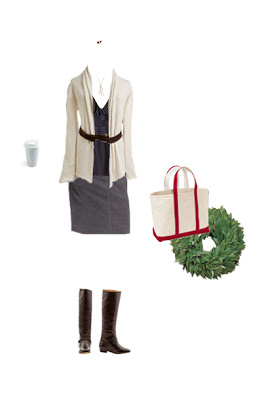 What to Wear: Ruffled Blouse
Kelly's dilemma regarding an Anthropologie blouse is nothing new to me. The store's particular brand of clothing with "interesting character" has a tendency to vex me too. Everything they have is lovely, some of it simply doesn't like to be worn with anything else:
I just discovered your blog and I am very happy as I have a "what to wear dilemma". I was recently gifted the beautiful Scrollwork blouse from Anthropologie, shown here . It is a beautiful purple and parchment/deep ivory shade, however I'm at a loss at what to pair it with to pull it off on an average day during the week. I normally wear only jeans, but would like to pull away from that to a more feminine wardrobe. On the website, they pair it with a pretty ivory dotted skirt…but it looks more like something I'd wear to an event as opposed to a normal day just running around town. I'm open to any suggestions. I'm 5'2″ with a long torso, so I usually wear petite sizes on bottom and regular sizes on top. I hope you can help.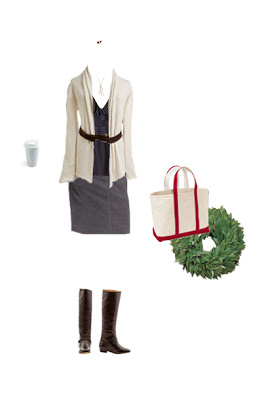 Blouse – It would be so easy to dress this up and really show it off with a tweed skirt. Dressing down is a little trickier.
Sweater – A simple cashmere wrap from Boden still shows off the blouse.
Skirt – I have a similar gray corduroy skirt that I wear all the time. So perfect with black tights and flats for everyday. Have it tailored if it is too long.
Boots – Not cheap, but very nice and apt to last a long time. From Frye.
Tote Bag – A classic from LL Bean.
Necklace – Double branch in silver from Michelle Chang via Etsy.
Earrings – Red coral studs.
Cup – A porcelain "not a paper cup" for your tea on the go.
A very stylish way to run errands!