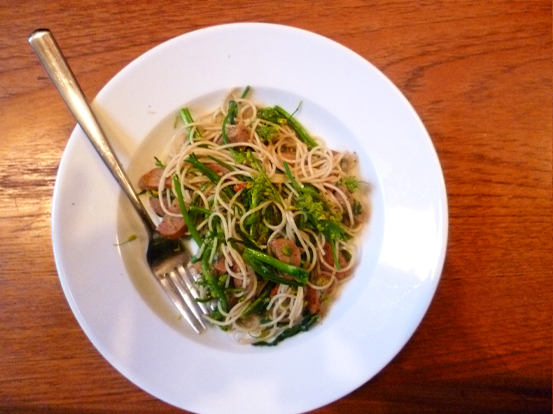 Recipe: Angel Hair with Choi Sum & Sausage
Mmmm…Have you had thin crust pizza with broccoli rabe and spicy sausage? It's a delicious combination that inspired this easy weeknight pasta dinner.
Choi sum, with bright yellow flowers, is easily found at most asian markets or farmer's markets in the Bay Area through the summer. It's actually the young rapeseed plant, aka canola. I usually reach for choi sum to be a colorful addition to salads or sandwiches, but it was really good cooked! If you can't find it in your area, Chinese broccoli or rapini would be fine.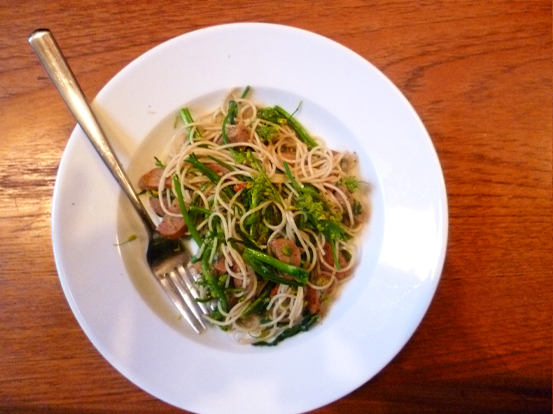 Angel Hair with Choi Sum & Sausage
Serves 2
3 chicken jalapeno sausages (Trader Joe's is my favorite), chopped
1lb of choi sum, rinsed and cut into 2 inch pieces
2 servings of Barilla Plus angel hair pasta
1 clove of fresh garlic, minced
1 tablespoon of butter (or olive oil)
Pepper & red chili flakes to taste
Toss your angel hair pasta in a pot of boiling water. Add the chopped sausage to a large skillet, cook on high until the sausage begins to brown. Turn the heat to low and add the yu choi, garlic and butter on top of the sausage. Cook only until the yu choi begins to wilt, about a minute. Turn off the heat on your skillet until the pasta finishes cooking for 7 minutes. Strain and add pasta to the sausage mixture in the skillet. Turn heat back up. Add pepper and red chili flakes to taste. Cook until fully mixed and serve!