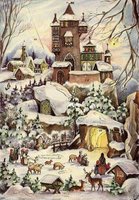 Advent Calendar: December 21
Only four more days of the online advent calendar to go. I'll be leaving town and going on vacation for a week so get it while you can!
Today's advent calendar image takes us back to Victorian times. Click on the calendar or here to see today's holiday image.