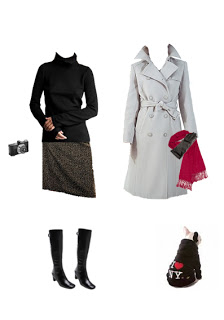 What to Wear: New York Vacation
Traveling in the winter can be so nice. But it does require a little more planning in the packing department. Here is Cyndi's request:
My big fashion challenge right now is that my husband and I will be celebrating my birthday in NYC in early January and I have absolutely no idea what to wear! We'll be there for four days and our plan is to attend two Broadway shows, eat at some great restaurants, do some sightseeing (Top of the Rock, Central Park, Rockefeller Center, etc.) and shopping. Seeing as how it will be quite cold in NYC at that time of year, I truly don't know what to take.

To make things even more challenging, my husband and I are currently living in Shreveport, LA where it doesn't get all that cold in the winter so my wardrobe is quite lacking in the "warm clothes" department. I'm 5'7″ and usually wear a size 6; have dark hair, blue eyes and skin on the pale side (pastels are not a good color for me). I'm hoping that you can work your magic and give me some ideas on what I can take that will make the most of our trip.
I like to pack a lot of black when going to visit a big city. Not only is it stain-proof but it is an easy way to look sophisticated with only a few mix and match options. My suggestion is based off an outfit that I loved in Paris. It was warm enough for walking around and fancy enough when stripped down inside of a nice restaurant:
Sweater – A nice warm turtleneck. Perfectly matched with a skirt or with jeans. You can add another sweater or fleece jacket on top of this under the coat if needed for warmth.
Skirt – A tweed skirt is surprisingly warm with opaque tights and is impossible to wrinkle.
Boots – Find a pair that is really comfortable for walking and that you can fit thick socks under. This pair is Ecco for extra cushion.
Coat – Because you can't do a proper Audrey impersonation without a trench.
Gloves – So helpful.
Scarf – In cashmere and on major sale.
Dog Sweater – Adorable souvenir! But for $50? Maybe not quite that adorable.
You should also take a warm cap and a headband (for recovering your post-cap hair). And lots of moisturizer and chapstick to guard against the cold wind. All you need to add is a couple more sweaters, a pair of jeans and a pair of tweed trousers and you're ready to go!