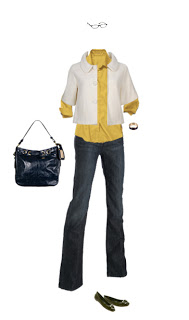 I've worked for dot-com's for the past six years. I bought all kinds of suits for my first job and quickly learned that they didn't really match the tech dress code. Here is Hanna's request:
I am a college student and I have an internship at a big tech company next semester (Spring). The dress code is very casual, and is dominated by men. Men usually wear shorts, a t-shirt, and sneakers. From the few women that I have seen, they too also wear t-shirts and jeans. I will probably move around a lot, so comfortable shoes are a must.

I really want to be noticed at work by looking well put together without breaking the bank. I look very young for my age, and people still think I am in high school. I want to update my wardrobe to look more grown up.

It is also in Austin, and I'm from Chicago (my wardrobe is a lot of fall/winter pieces)! I am 5'2 and have a bit of an apple figure (short torso, not flat tummy) and have somewhat pale skin despite being Asian.
Dress up for the first couple days, and then migrate to a uniform of jeans, structured shirts and jackets. Pretty much every woman in San Francisco wears a variation of the following to work at their tech jobs. And there's a good reason why, you're comfortable and put together looking. Sort of a hybrid between the corporate and the coding worlds.
Jeans – A nice dark pair that looks tailored and crisp. You can also do trousers or a pencil skirt to mix it up.
Shirt – A collared shirt is always right for the office. This J.Crew version is loose, feminine and bright. Yellow is extra nice when paired with a berry lipstick.
Jacket – Some sort of blazer or small jacket will add structure and help to keep you warm (men like their offices cold)
Bracelet – Purple and gold adds an extra bit of flair.
Flats – So nice for running around the office all day.
Handbag – I have a navy bag that I love.
Glasses – A quick and easy way to look more "serious."
Good luck with the internship!