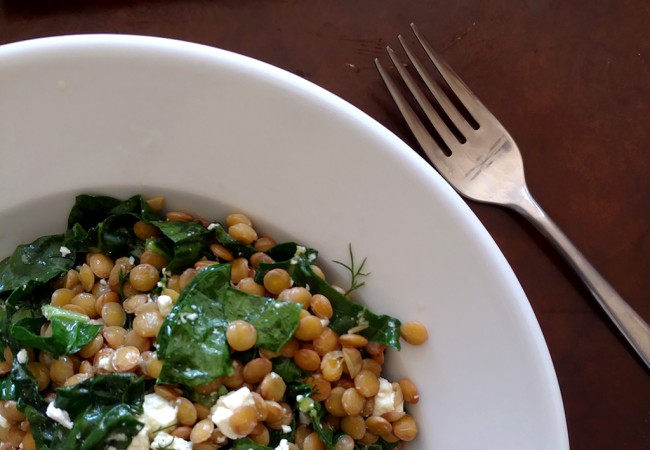 Warm Green Lentil & Kale Salad: A Favorite Work-from-Home Lunch
It has been 8 months since I decided to officially start my own company, Uncommon Bold. There are times when it is really difficult (accounting, permits, taxes, everything having to do with numbers and paperwork) and times when it is so, so great (most of the rest). I enjoy the work I do helping startups with their brand strategy. I've build a network of talented people around the world to assist. I have interesting and kind clients that I want to see succeed.
More than anything, I love being in charge of my own schedule. Which, as a devoted hermit, means getting to stay home. I love staying home. Like Jane Austen wrote, "There is nothing like staying at home for real comfort." All those dinner parties are really just a ruse to lure friends into staying home with me.
Rob also works from home and we have such a nice ritual for the day. We wake up and he makes a pot of french press coffee before dialing in for international conference calls at 8 am. Plain greek yogurt with muesli and fruit from breakfast. Work in the morning from our tiny, shared "co-working" office. Break at lunch where I listen to BBC World Service while making something to eat. Afternoon walks to farmer's market or out for meetings/errands. Sometimes we take a bike ride to the beach in the afternoon. In the evenings, we're out and about with friends and at community meetings.
Another great thing about staying home is having time to cook. This lentil salad is one my very favorite work-from-home recipes. The combination of warm lentils with kale or cabbage is something I discovered while we were in Croatia, cooking out of airbnb apartments with hot plate stoves. The feta, olive oil, dill, lemon and green onion dressing is inspired from our time in Greece, buying produce out of delivery vans that came through once a day to the villages. This dish just takes a few minutes to throw together and is deliciously filling.
Warm Green Lentil Kale Salad with Dill and Lemon
Serves 2-3

1 and 1/2 cups green lentils
2 cups of kale or savoy cabbage
1/2 cup good quality feta cheese
1 tablespoon of fresh dill
1 tablespoon of green onion
Half a lemon
Olive oil, salt and pepper
Boil the lentils in a pot of water for about 15-20 minutes, until they are firm but cooked. While that is going, cut your kale into ribbons. I use scissors for this and chopping the herbs. Mix the greens and herbs in a bowl with lemon juice, olive oil and seasoning. The lemon will "cook" the kale a bit. When your lentils are done, strain off the water and add the hot lentils on top of the bowl of greens. Mix well, adding the feta toward the end. Add extra lemon or seasoning as needed. This recipe is best served right away but