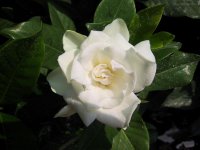 Flower of the week: Gardenia
One of my favorite things about San Francisco is the flower vendors downtown who sell gardenia corsages on the street for $1. When I used to visit the city, I always made a habit of buying one to pin on my sweater. On my way to the Supperclub party last weekend, I picked up a gardenia for my hair and all those lovely memories came flooding back. It's a bit wilted now, but still floating in some water and making the house smell divine. Here are some more facts about this week's flower:
The gardenia is a native of China, Japan, Africa and Taiwan. It is named after Alexander Garden, a Scottish botanist in South Carolina in the 1700's. Victorians used gardenias as a sign of "joy" or a way to say "you are lovely." There are over 250 varieties of gardenia including bonsai. In Asia, gardenia flowers are used to create a yellow die for food and clothes. In the 1920's, Chanel created a wildly popular gardenia perfume.