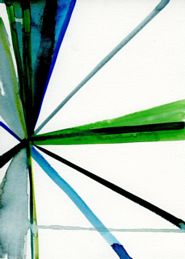 Spring cleaning: Need some art?
This week's theme is apparently "spring cleaning." With the weather taking a turn for the best (finally), I have been feeling ambitious about getting my apartment in order. We talked about freshening up your light fixtures yesterday, today we're going to talk about adding some art to your walls.
I received the Mixed Greens catalog in the mail yesterday. This New York art gallery specializes in selling the works of up-and-coming artists at reasonable prices. They have some really nice pieces to suit every kind of taste. For example, these abstract sketches or these tiny chicken skulls (trust me, that description doesn't really do it justice).
If you're not quite ready to invest in artwork, look for other inspiration. Antique prints can be surprisingly affordable and fun. Visit estate sales for smaller pieces at low prices. Take some those old drawings and posters you have lying around to the frame shop. Make your photos into pop-art. You can also follow in Jill and Peter's footsteps and make your own art with a few oil canvasses and some acrylic paint.