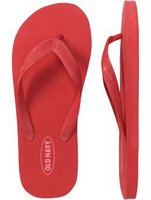 Bargain finder: Sale at Old Navy
I'm starting to look like such a snob! Posts about parasols and Hermes scarves? As much as I imagine myself to be quite "fancy," it's not the reality. Sure, I do love Gump's and going to the opera but it's more common for me to take the stinky 22 bus to work, eat $4 takeout Chinese food for dinner, drink PBR and shop at Ross. I also love an occasional bargain from Old Navy. They are having a big sale online right now with some great finds:
Denim jacket – You can never have too many coat choices in San Francisco.
Woven bangle – Very "visiting morocco"
Flip flops – My closet has eaten my last two pairs. I know being flip-flop-less is a cardinal sin in Jean's eyes, so I need to stock up. I like these in "rattlesnake"
Don't forget to use the $10 off coupon for your online order for extra savings!