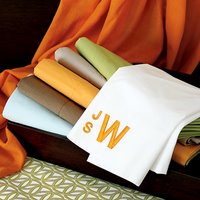 Shopping challenge: Affordable monogrammed sheets for Jean
Jean and I were waiting for the fashionably late guests to arrive and browsing through Domino Magazine last night. Being utterly fabulous, of course all the apartments featured have monogrammed sheets. Jean was drooling over the monograms so I decided to do a little online research for her:
West Elm – Really cheap sheet sets with a fun modern monogram. I recommend the orange with white monogram for Jean. 230 thread count is more than a bit rough though.
Neiman Marcus – Definitely not cheap…but oh so cute. I like the willow set for Jean.
Pottery Barn – Jackpot! I like the big traditional monogram on these sheets. They are expensive but not unaffordable. The matching duvet cover is lovely too. 400 thread count.
What do you think Jean? Would any of these work for your North Carolina cottage?