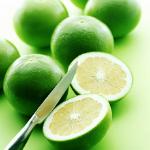 Things I love today: Limes
Something about the gorgeous weather we've been having in San Francisco has roused my inner SoCal girl. I have been completely obsessed with fresh limes for the last few days.
Last night, we had fresh cataloupe with lime for dessert while watching the Tour and drinking Bordeaux. Today, I had a delicious plate of bean tacos with guacamole and lots and lots of lime from Dos Pinas. I love it!
Maybe this weekend I'll make some coconut lime sorbet!