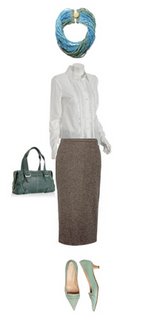 What to wear: Going to MOMA
The Ladies Activity Club is going to the Museum of Modern Art next week for our July party. SF MOMA is open until 9 pm on Thursday nights and even offers tasty treats. It's a perfect LAC venue. Now, I just have to figure out what to wear.
Being very obsessed with appropriate outfits (I once owned a regulation croquet skirt), I need to come up with the perfect thing for this evening! This outfit is all about the accessories:
Grey or brown pencil skirt – Looks great with everything.
White blouse – Another foundation piece.
Artistic necklace – This choice from MOMA in New York is made of silk. You can dry clean it!?
Low heels – The color and shape of these pumps from Casadei makes them traditional but fun.
Handbag – I love the color of this purse from Via Spiga.
Toss in some pearl studs, nude fishnets and a trench. You are set to mingle at the museum!
Update: Check out the cute blue shoes from J.Crew that Sara found for only $50!