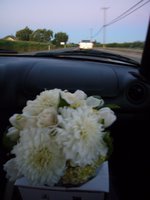 Paul and Celeste get married!
What a wild weekend! Everything went just perfectly and all our extra help made the wedding really special. You can see all the photos online here.
Rob and I picked up the flowers at 4:30 on Friday and loaded up the Miata. We blasted the air conditioning the whole way to keep the bouquet as fresh as possible. At 10:30, we put down our sleeping bags at a small campsite off the 120. Between the crickets, bright moon and meteor shower, it was hard to sleep without a tent!
The alarm woke us up at 4:15 am the next morning…yikes. We packed up the car and drove an hour and half to the wedding site. The sun was just rising when we reached Glacier Point. Only a few hikers and a couple hangliders were out this early. The bride and groom and ken and his girlfriend Anja arrived a few minutes later and we carried everything down to the granite amphitheater. Rob helped scatter rose petals while Anja set up the video camera.
The ceremony was just gorgeous. Yosemite Valley was looking magnificent in the background, Ken was an excellent official and Paul and Celeste could not have been happier. Celeste cleverly wrote her vows on a ribbon which she then tied on to Paul. Anja and I tossed rose petals at the newlyweds when the ceremony ended.
Rob took some portraits of the new Mr. and Mrs. Lopez and we watched as they cut the cake. We all toasted the happy couple and Paul and Celeste thanked us for helping make their wedding so special. We also watched a hanglider jump off the cliff and fly across Yosemite Valley. It was much more dramatic than releasing doves and choked us all up a bit. It was about 8:30 now and time to drive down to Yosemite Valley for their breakfast reception at the Ahwahnee Hotel. Everyone made an appropriately big fuss over the bride and groom!
We spent the rest of the day relaxing by the river, rock climbing and having a pizza feast. Ken, Anja, Rob and I camped in the valley that night and climbed some more the next day before heading home. You can click here to see all the photos from our Yosemite weekend.
I am really glad that we decided to pitch in and make Paul and Celeste's wedding so wonderful. It's easy to brush off these wedding traditions, but they really do add something special. Hooray for being bossy!