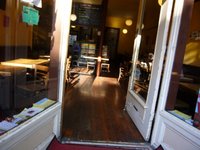 It's been another busy week here in San Francisco. Between planning this weekends wedding and getting ready for New York next week, I've been swamped. Here's some of the lessons I learned:
The people at Church Street Flowers are nice.
The rental shoes at the rock climbing gym are disgusting!
Interior decorating with Photoshop is a lot of fun.
Don't go to Ross on Tuesday. It's senior discount day.
I heart South Pacific in Concert. Jason Danieley is cute…Reba McEntire is way adorable.
A great kickball strategy is to have three bunters load the bases and then have a former college football kicker your team has recruited bring everyone home. Woo hoo! 15 to 2 victory!
Enchanted by giant sale boxes of grapes and blueberries at Safeway but leaving town for the weekend? Toss them in the freezer.
Champagne saucers: superior to champagne flutes.
Have a great weekend!