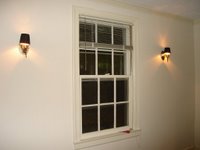 Shopping challenge: Wall lamp shades
Jean is settling in to North Carolina and starting to work on her house. Which for Jean, means mostly painting a lot of things bright green 😉 She asked this morning for some help finding a way to brighten up the wall lamps in her living room. As you can see in this photo, they currently have small, dark shades.
She could replace the lamp hardware along with the shades. I know that Trent is handy around the house, but they are renters and shouldn't invest that much money. If she chooses to go that route, these mission style sconces are nice.
Or she could replace the lampshade for a quick and inexpensive fix. I would go with a brighter shade that is a little bit oversized.
Option 1: This is a wicker shade for $30.

Option 2: A very traditional and pretty shade for $10.

Option 3: I like the blend of this modern shade for $14 with the traditional lamp.

Option 4: This last one is my favorite. I know coral is very "last season" but this $10 shade is adorable and would match the red paint and brick of her new house.

Which is your favorite lampshade option? Vote in the comments section below!