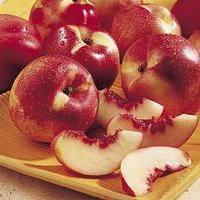 It's so fun to experiment with different ingredients in salads. Forget cucumbers and tomatoes…I love salads with fruits, seeds, cheeses, etc. The salad I made last night is my new all-time favorite:
Four handfuls of mixed greens
4 large radishes
2 ripe white nectarines
Balsamic dressing
Chop the radishes into very thin "coin sized" slices. Chop the nectarines into half inch cubes. Toss everything together with a balsamic dressing. The radishes and mixed greens are a little spicy and the nectarines are divine with balsamic.
This recipe was kind of a fluke! I had the nectarine ready for dessert but decided to dump it in the salad at the last minute. It was a hit with the guys! Trent remarked that he doesn't usually like radishes but he liked this salad and Rob devoured the leftovers straight from the salad bowl.
White nectarines are a great choice for other kinds of savory pairings too. Try making a white nectarine salsa or barbecue nectarines to serve with chicken. You can also poach nectarines in muscat for dessert like they do at Bar Tartine. I may not love summer clothes, but I do love summer produce!