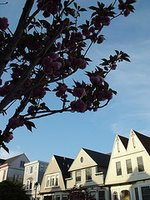 Urban girl almanac: Off to Mendocino
Rob and I leave tonight for our camping and horseback riding weekend in Mendocino. I'm excited to explore this unfamiliar part of the coast and to get in some relaxation. In the meantime, let's go over the lessons I learned this week:
It's no fun being sick, but it is a good opportunity to catch up on your reality TV.
Nick's Crispy Tacos doesn't have any "Taco Tuesday" specials.
Amanda Bynes is funny and cute.
Momo's is fun for lunch, especially on a game day. The macaroni and cheese is totally worth $14.
It's amazing how fast five years goes by when you are with the right person.
White nectarines are fun to cook to with.
Project Runway kind of jumped the shark by making the "kicking off" so anti-climatic.
Its hard to win at kickball when some of your teammates are new and have no clue what is going on.
Everyone should keep their fingers crossed for Nicole's job interview.
You'll never wait alone in front of a San Francisco restaurant.
Cha-Ya's curry noodles are super yummy.
Hooray for Nordstrom Rack!
It looks like there is going be pretty nice weather in the city the next few days! Have a good weekend!