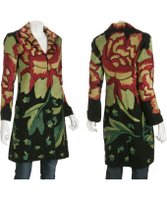 Coveted: Tapestry tweed coat
It seems like all the winter coats for sale now are soo boring. Black wool, grey wool, puffy down…blah. I spent months last winter wearing the same black puffy over and over again. Never again!
Instead, I would like this crazy coat from Biya. Now this is a coat you can really sink your teeth into! It starts with dark tweed and is then decorated from top to bottom with tapestry style embroidery. There is also one in camel.
Only $549 for a coat that promises to chase the winter doldrums away. What a bargain!