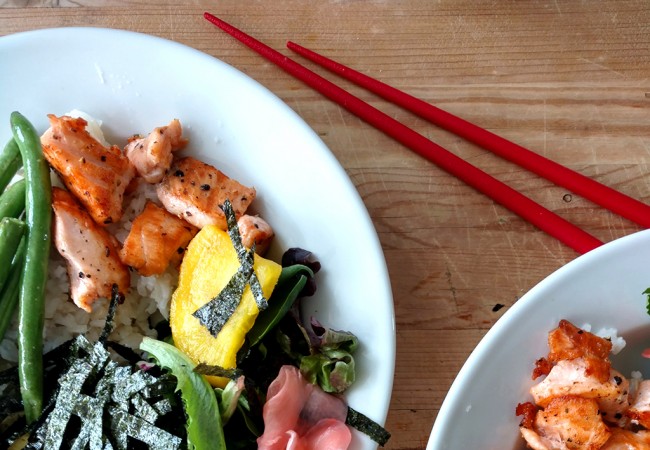 15-Minute Japanese Rice Bowls with Salmon and Avocado
My new prenatal doctor's only advice to me at the first appointment basically boiled down to "relax" and "eat salmon" – not so bad! I don't particularly love salmon but do enjoy it in my favorite work-from-home lunch recipe for Japanese rice bowls.
I swear, the recipe really takes just 15 minutes even though it seems complex! Most of the ingredients can be kept in your fridge and pantry for a long time. When I don't have salmon, I often swap in tofu with a miso glaze for the protein. Almost any vegetable works for the side. Sweet potato is really good if you don't have green beans. Definitely do try to include the avocado and nori though – they make a big difference in overall flavor.
15-minute salmon and avocado Japanese rice bowls
Serves two
1 cup of rice
Handful of hearty greens or lettuce
1/2 a ripe avocado
1/3 pound salmon, cubed
1/3 pound of green beans
A sheet of nori or roasted seaweed snacks
Optional: Pickled radish and ginger
Dressing: Soy sauce, fresh ginger, sesame oil, rice vinegar.
Step 1: Start your rice on the stovetop or in a rice cooker. This takes the longest to cook. I use a mix of white and brown rice with a dash of quinoa.
Step 2: While your rice is cooking, assemble the cold portion of the bowl. Fill half a wide pasta bowl with hearty greens like spinach or baby kale topped with 1/4 of a sliced avocado. Use scissors to cut a sheet of nori or roasted seaweed snacks into thin strips. If you want, add a slice of pickled radish (oshinko) and a slice of pickled ginger.
Step 3: The rice should be about 10 minutes from done now. Cut up a few small pieces of salmon and start them in a grill pan. Salt and pepper works for seasoning. Or, you can use some red miso paste diluted in water to make a glaze. Add the green beans or other veggies to cook in the same pan when the salmon is nearly done.
Step 4: In a small bowl, combine a tablespoon of low sodium soy sauce with a teaspoon of fresh grated ginger, a small splash of sesame oil and another of rice vinegar. Add one diced green onion and a couple teaspoons of water to thin.
Step 5: Your rice, fish and veg should all be done at the same time! Spoon the rice into the other side of your bowl and top with the salmon and green beans. Pour half the dressing over the whole bowl and devour!