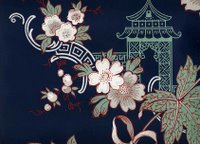 Inspiration: Vintage Wallpaper
I was browsing vintage wallpaper designs over at Secondhand Rose when I came across this chinoiserie darling.
I love the mix of dark blue, green, jade, cream and burgundy in this pattern! Wouldn't it be a great scheme for a bathroom? Imagine all that white porcelain with dark blue walls, jade towels and red accents. Dreamy!