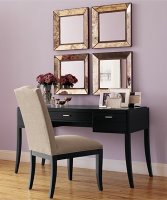 Rob just replaced our old computer monitor with an LCD screen and I am struggling with how to "stage" the desk. It's in our dining room, so it needs to be functional but also pretty sparse. I probably need to buy a lamp and some desk accessories. So all of today's posts are going to be about desks and home offices!
I found this Claude desk while searching for good ways to arrange desktops. My favorite designs blend traditional and modern styles. This desk from Crate & Barrel does that well and happens to match all my living room furniture. I love it! But at $1,000 I think I'll stick with my current desk.
Share your desk tips and picks in the comments section! Or even better, send me a photo of your stylish desk for inspiration. I'll post the best desks online tomorrow!