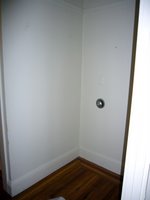 Things I love today: Fabulous new hallway
Hooray for redecoration! Our boring front hallway has gone from drab to fab in just…four days? More if you count the months we (we = Trent) worked on restoring the mirror. Here's how the hallway looked just before we started painting. There were two candle sconces and a coat rack in here but it was pretty boring:
Here's how it looked when I started painting. Pretty terrible and a lot like the set of Les Miserables, right? You should click on the photo to get a full sense of the splotchyness! I was sure I had destroyed the apartment with this project.
Ahhh, sweet completion. One more coat of paint made a world of difference. Rob and I hung up the mirror on Sunday morning and put the coat rack back up. Like Rob said, "it looks like a little room now." The giant gold mirror is really nice in that location, impressive without being overwhelming. This is what it looks like when you come in the door.