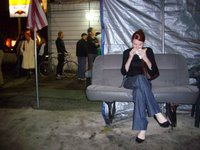 Weekend Round-Up: World Tour
On Friday, I always say that I have a relaxing weekend ahead. On Monday, I am always amazed at how much we did in just a few short days. This weekend was a prime example. I said "Finally! A week in San Francisco with nothing to do!" in my last post on Friday. Here's what really happened:
Friday night was a concert at Slim's with our friends Matt and Amber. We saw Old Crow Medicine Show, which I had never heard of before and was incapable of remembering correctly (Coal Miners Crew? Shorty Sullivan's Banjo Band?). The show was good, but I was really more interested in getting crepes from the wagon across the street afterwards. Crepes a Go Go was mind-blowingly delicious, enough to compensate for the less than inspiring decor.
Nicole came out to San Francisco for a visit on Saturday morning. We drove over to the Legion of Honor to see the Monet exhibit before it finishes this Friday. I have never see this museum so crowded! Luckily, my member pass let us skip the line and go straight to the paintings. Nicole earned an A+ in art appreciation and we managed not to be trampled by German tourists before lunch.
Next stop was Japantown. I knew that Nicole would love this indoor Japanese mall! We had a huge sushi lunch and then spent a few hours exploring all the shops. We even got temporary tattoos! Mine was a tiger and Nicole's was a bulldog. Lovely! We returned to the apartment around 4 to rest up…well, sort of. I was very caffeinated from my afternoon latte and made Nicole tie 25 pencil bundles and then painted the front hall in record time! We had dinner at The Sausage Factory on Castro Street and dessert at Hot Cookie.
Rob and I took on home renovation projects on Sunday morning. Rob's friend Matt was coming in from Idaho at 11:00 and we wanted to hang up the mirror in the front hall and get a few other projects finished before his arrival. We even managed to squeeze in the Sunday NY Times before Matt arrived. He quickly dashed off for his Chemistry conference downtown. Rob and I packed a picnic and took the train out to Opera in the Park at 1:00. The organizers should explain the location as "the spot where the fog and sun meet in Golden Gate Park," since the weather is predictably dramatic over this location every year!
We sat in the sun listening to lovely arias, trying to get a peek at Dede Wilsey and reading the NY Times magazines for a few hours. On our way back home, we stopped at Cole Valley Hardware to buy a new plant for the living room. We were just finishing the laundry when Matt returned from his conference. Dinner was at Thep Phanom, one of the best Thai restaurants in the city. Around 9:30, we were all fading from our big dinner and long weekends. We turned in early.
Just another "nothing to do" weekend here in San Francisco!