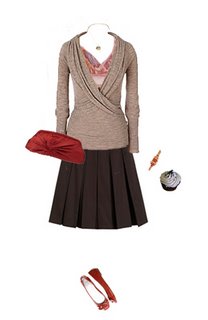 What to Wear: Flats for Fall
I am so tired of wearing flat shoes every day. All my beautiful heels are lined up in the closet while I wear the same pair of black ballet flats. And when I try to sneak on a pair of pumps or boots my physical therapist catches me. It's one of the perils of having the PT office next door. So I attempted to put together a fun outfit today that was flat shoe friendly:
Even I have to admit that this outfit is pretty fun. Maybe wearing flat shoes everyday isn't so terrible!