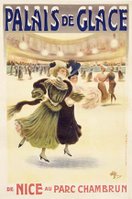 Party Recipe: Ice Skating
I'm trying to put together a few different holiday parties during December. One is going to be our annual dinner party with Jill and Peter, one is an open house with our apartment building neighbors and the other is an ice skating party. It's been tough to plan around everyone's booked schedules…so I don't actually have any guests for these parties just yet. I need to try another round of that particular word problem this weekend. Here's my plan for ice skating so far:
Skating at the Embarcadero Center. They have 90-minute sessions starting every even hour at this open-air rink. Plus, free parking with validation!
Follow that appetite building activity with a casual dinner of two different kinds of homemade soups, a big salad and a selection of gourmet grilled cheese sandwiches.
Follow that with old fashioned ice cream sundaes with warm brownies.
Decorate the dining room table with a big knit scarf serving as a runner. I think I saw this idea in Taste of Home magazine of all places.
So fun! I really want to have this party!