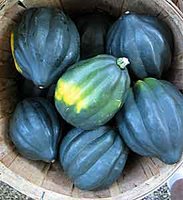 I'm a recent convert to the world of squash. I used to hate anything related to a butternut or an acorn, it all tasted like baby food to me! Over the last year I've discovered some new recipes and a whole new world of cucurbita.
One of my favorite ways to cook winter squash is in Mexican dishes. Jean and Trent originally inspired me with this delicious butternut squash enchilada recipe. Last night I tried something along the same lines with the last of our Thanksgiving turkey:
Winter Squash and Turkey Tacos
1 acorn squash
3 cups of turkey leftovers or chicken, cubed
Half an onion, diced
1 cup black olives, chopped
1 cup fresh cilantro, chopped
1 tablespoon olive oil
2 teaspoons good quality chili powder
2 teaspoons good quality oregano
Salt and pepper to taste
Optional fresh roasted chili peppers to taste (one poblano should be good)
1 cup of shredded cheese
Corn tortillas
Cut the acorn squash in half, scoop out the seeds and bake at 350 for 30 minutes. Heat the olive oil in a pan and add onions over low heat. Let onions "sweat" for about 10 minutes. Add the fresh chili peppers, chili powder and oregano and stir. Remove the acorn squash from the oven. Remove the skin and cube one half of the squash, save the other half for something else. Add the squash, olives and turkey to the pan. Cook about 10 minute over medium heat. Add the cilantro during the last minute. Heat the tortillas on your stove's gas burners. Serve the tacos with the shredded cheese on top. Delish!